June 2013 | Enterprise Collaboration & Social Software Industry Report, Redwood Capital

A new Redwood Capital Group industry report released the first week of June 2013 focuses on Enterprise Collaboration and Social Software. The thirty-two page report includes Market Trends, Competitive Landscape, M&A Activity, Private Financing, Valuation Trends, and Emerging Private Companies, including Traction® Software. You can download a free copy of this and related industry reports from the Redwood Capital Sector Focus page.
Download and read the full report for carefully drawn analysis and insights on Market Trends and Competitive Landscape in Enterprise Collaboration and Social Software as well as detailed summaries of relevant M&A and investment transactions for 2010-2012.
A few Market Trends and Competitive Landscape highlights:
From Overview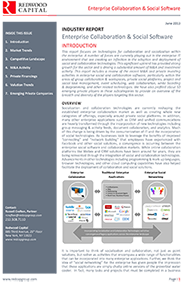 "Socialization and collaboration technologies are currently reshaping the established enterprise collaboration market as well as creating whole new categories of offerings, especially around private social platforms. In addition, many other enterprise applications such as CRM and unified communications are heavily transformed through the incorporation of new technologies including group messaging & activity feeds, document collaboration, and analytics. Much of this change is being driven by the consumerization of IT and the incorporation of social technologies. As businesses look to leverage the benefits of improved "connecting" and "network building" that employees have experienced with Facebook and other social solutions, a convergence is occurring between the enterprise social software and collaboration markets..."
"It is important to think of socialization and collaboration, not just as point solutions, but rather as activities that encompass a wide range of functionalities that can be incorporated into many enterprise applications. Further, we think the idea of "social networking" for the enterprise has given people the impression that these applications are simply chatty online versions of the proverbial water cooler. In fact, many tasks and projects that must be completed in a business context require connecting and collaborating with other works both inside and outside the enterprise. The concept of "social software" in this regard is really around providing a software platform that helps coordinate these connections around a work activity (such as processing a customer complaint or processing a claim or new account, which requires both connecting with other works as well as completing certain documentation. As a result, private social platforms simply provide a useful means for workers to comment, share, collaborate and follow the flow or completion of a project or task."
"Later is this document, we discuss the differences between people-centric platforms vs document centric platforms. While some platforms may truly be document centric (such as an online whiteboarding platform) or people centric (such as a CRM related application), we suspect that over time, many platforms will integrate the concept of both the social as well as the document management side to provide solutions that significantly improve the efficiencies with which workers can perform their daily activities."
From Market Growth
"While the enterprise social and collaboration software sector is experiencing substantial growth, as with any new, emerging area, trying to get an accurate estimate of the market size or potential, is challenging. A recent report by IDC estimated that "enterprise social networks and collaboration" will grow from $800 million to $4.5 billion by 2016. While this certainly implies robust growth, we believe there are a number of relevant categories the IDC study did not include, such as project management software and certain vertical-oriented solutions, which only make the opportunity that much larger. Project management and vertical solutions are particularly important sectors as we expect players focusing on specific industry verticals or functional areas to offer highly compelling ROI propositions to CIOs and thus remain competitive against the larger, horizontal platforms offered by established enterprise software vendors."
from Competitive Landscape
"Since the offerings from players in the enterprise social and collaboration sectors include a wide range of differing features, it can be difficult to compare the competitors and their platforms and even determine the categories in which they really compete. Further, the terms "collaboration" and "social software" are used with widely different meanings, each often with the intent of including the other. However, socialization and collaboration are different, and while being closely related, involve different functionalities. In order to help break down the space, we find it useful to look at the core focus of an application. In general, most solutions fall into two core areas of focus: document-centric or people-centric."
Document Centric
"Document-centric offerings are based on collaboration, content or data sharing, or presenting content (documents, files, presentations). Players in this area often fall into categories traditionally thought of as "collaboration"..."
Key Document-centric subcategories: Group Collaboration Workspaces, Project Management Systems, Electronic Calendar and Time Management; Online Proofing & Editing; Mind-mapping and Diagramming; Conferencing. [see report for subcategory descriptions]

People Centric
"People-centric solutions are focused on human interactions and are designed to make these interactions more productive. While people- centric offerings may include some document- centric tools, their core focus is on human interaction..."
Key People-centric subcategories: Private Social Platforms; Social Task Management; Social CRM; Peer Review & Ideation; Other Social Tools [see report for subcategory descriptions]
On Social Task Management: "Social task management, while similar to document-centric project management solutions, is a people-centric distinction. Many private social platforms are essentially focused on task management so this category is also perhaps just a slight narrowing of the broader private social platform concept discussed in the point above. While many of the tasks workers perform focus on a document, email or form, much of this work is often done in collaboration with others. As collaboration and private social platforms integrate these two aspects, many project or task management systems become as much people-centric as document-centric."
For more information, please contact the author:
Russell Crafton, Partner
rcrafton@redcapgroup
Redwood Capital
885 Third Avenue, 25th Floor
New York, NY 10022
redcapgroup.com
Related
May 2013 | Getting Work Done with Social Task Management
May 2013 | TeamPage listed as key product in Technavio's Global Enterprise Social Networking Market Report
7 May 2013 | Real Story Group's Updated Traction TeamPage Evaluation in Enterprise Collaboration and Social Software Report
7 Oct 2011 | Jacob Morgan - Emergent Collaboration Vendor Review: Traction Software
Blog1883: Laser focused E2.0, without the risk? Get Traction!
Tweet