Vantis PLC (Formerly Numerica Group)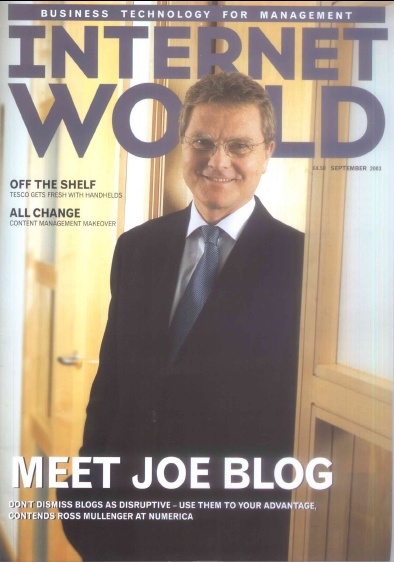 "Don't dismiss blogs as disruptive - Use them to your advantage" contends Ross Mullenger of Numerica Group in InternetWorld UK's cover "Dear Diary" story, subtitled "Meet Joe Blog", referring to the Numerica case study.
Ross Mullenger is Director and Head of IT at Numerica Group, a public London based professional services firm. Mullenger deployed Traction® TeamPage for internal communication and knowledge management among the organization's communities of practice and IT organization.
The case study in InternetWorld is not included in the online body of the Dear Diary article. In this overview, selected quotes are used.
The importance of sharing knowledge is tantamount at a professional services firm. "All of our business is derived from the selling of the knowledge of our employees," says Ross Mullinger, group IT director for professional services firm Numerica. "We're interested in anything that can effectively capture and disseminate the knowledge of one office, one region, one unit, or one person across the bigger organization."
While Lotus Notes and Sharepoint play a role in the IT Infrastructure, the Traction system added an important layer. Mullenger reports "[Lotus] Notes was always too much of a hassle; it was a straightjacket," he says, "The categorisation, the whopping great client you need, the overhead of the security - it all flew in the face of being able to capture spontaneous generation of knowledge."
"The beauty of these technologies is that they are not totally structureless, but the focus is on the individual." says Mullenger, "in the past, we've made the mistake most people have made with groupware, where we've focused on the structure rather than the people and the context and the motivation."
RSS aggregation at the intranet and user desktop level was also implemented at Numerica. Newsgator Technologies wrote a case study about the use of Newsgator's Traction Enterprise Server and a personal blogging platform.
Tweet