SITA | Société Internationale de Télécommunications Aéronautiques


SITA is the world's leading service provider of IT business solutions and communications services to the air transport industry. SITA manages complex communication solutions for its air transport, government and GDS customers over the world's most extensive communication network, complemented by consultancy in the design, deployment and integration of communication services. SITA is a community of 600 airline and GDS members and 2,000 customers, including Air France, Air Madagascar, Air Malta, British Airways, Cathay Pacific, Finnair, Hapag-Lloyd, KLM, IATA, and Royal Jordanian.
SITA employs over 3,800 people who speak more than 70 languages and are dispersed across 140 countries. SITA deployed Traction® TeamPage in the summer of 2005 with two principle objectives:
Foster collaboration amongst over 100 employees in a newly formed virtual team
Create and manage a searchable knowledge base
The system helps to pull together employees operating in six regional sales units and a global customer support as well as several marketing, business management and sales development units.
SITA's Traction Front Page:
A SITA's story is published in EContent Magazine's September 2006 issue, titled A Case of Limitless Collaboration. Raj Vardahn, SITA's head of Sales and Business Development, says:
One of the first and most obvious benefits we gained is general visibility. Before, everything was constrained within micro employee groups or even within individual mailboxes. People were working in silos. Today, corporate communications, market news, sales and support operations, and business processes in general are centralized and shared. Every team member can contribute, learn and build upon the experience and knowledge of his or her peers

They can also start new initiatives and act as a real global team on those initiatives, thereby making the best us of everyone's skills and expertise.

We have increased employee participation, recognition, and social networking and we've broken hierarchical barriers. Interestingly, its also generated a strong viral effect: we have a number of departments now clamoring for their own access to the platform to foster collaboration. For us, it's real evidence that there was a need for this.
A single page with comments: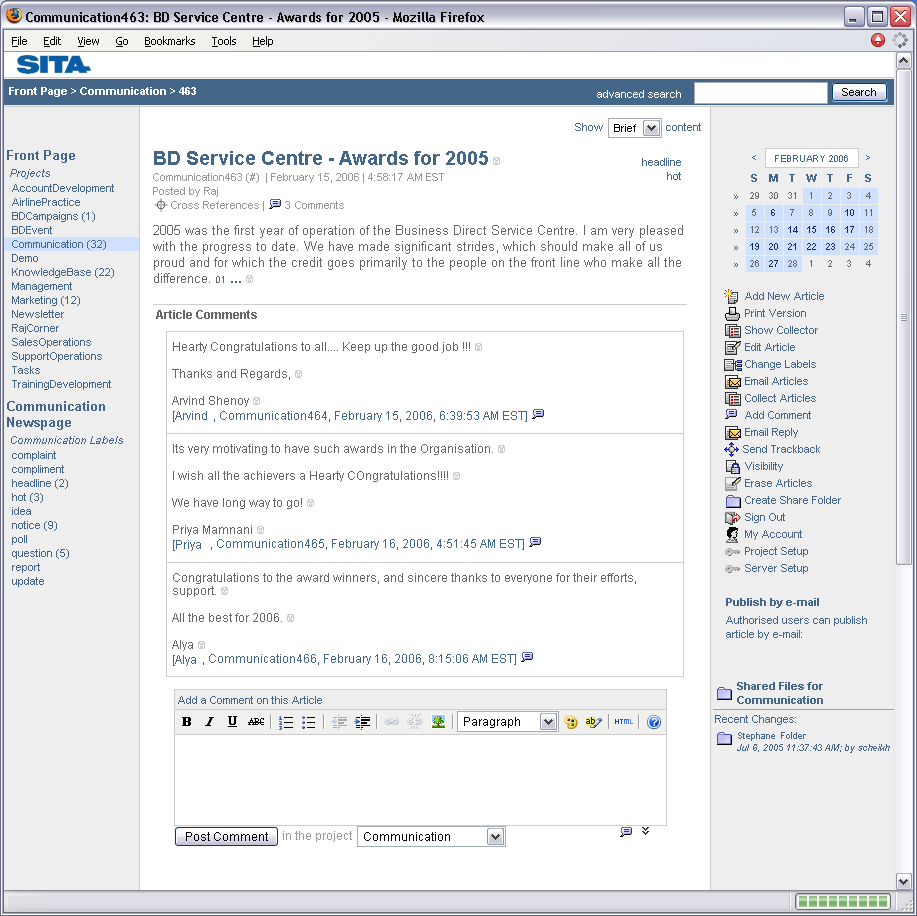 Since the EContent story, the number of Traction blogs has roughly doubled and the number of users steadily increased as they added groups and found new uses for the technology.
Read More in our Press Release SITA Gets Traction with Enterprise Blog Software.
Tweet