An Infinite Number of Cats on Keyboards: Ted Nelson & Computer Lib at Homebrew Computer Club Reunion
November 16, 2013
·
Blog2241
· Posted by Greg Lloyd
Order a perfect reprint of the original version of Computer Lib / Dream Machines directly from Ted Nelson, autographed if you wish. Highly recommended.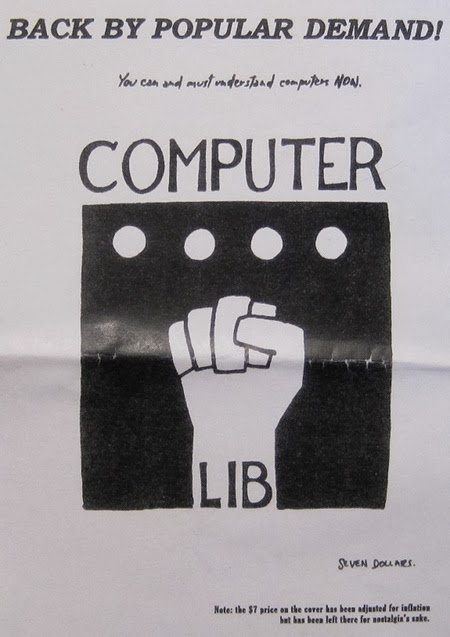 Ted Nelson's original 1974 edition of Computer Lib / Dream Machines was tour de force on hypertext, personal computers, and more. It was printed tabloid size, with Ted's hand drawn diagrams, neatly scribbled annotations, pasteup text and graphics in a style that has to be seen to be appreciated: think Whole Earth Catalog for computer geeks, film buffs, authors, philosophers, cartoonists, carnival barkers, and children of all ages.
In 1987 Microsoft Press did a good deed by reprinting the book, but chose a standard trade paperback layout which lost much of the charm.
The 1974 edition printed by Hugo's Book Service in Chicago has two front covers (one for Computer Lib and one for Dream Machines). Both books share the same binding, and you flip to read in either order. An original edition sells for over $250 when you can find a copy.
Read a fine essay and authorized sample from Computer Lib / Dream Machines as well as other classics at New Media Reader Excerpts, by Noah Wardrip-Fruin and Nick Montfort (Editors), MIT Press 2003.
In Nov 2013 Ted announced that you can order a perfect reprint directly from him for $100 including US postage ($108 for California residents).
See Mark Graybill's blog post on meeting Ted at the Homebrew Computer Club Reunion, 11 Nov 2013.
Here's the back of the Computer Lib flyer including payment address, terms, and email ordering address: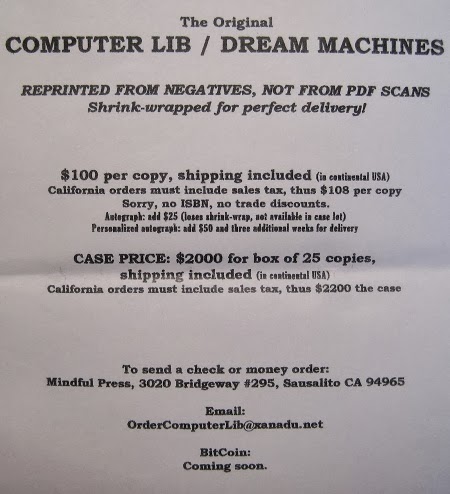 Ted Nelson speaks at the HomeBrew Computer Club Reunion, 11 Nov 2013 (YouTube video)
Update: On April 24, 2014 Chapman University hosted INTERTWINGLED: The Work and Influence of Ted Nelson. The conference "examined and honored the work and influence of this computer visionary and re-imagined its meaning for the future". Speakers include: Belinda Barnet, Dame Wendy Hall, Alan Kay, Ken Knowlton, Jaron Lanier, and Noah Wardrip-Fruin. Concluding remarks by Ted Nelson. See conference session videos.
Update: Intertwingled, The Festschrift-- Ebook celebrating Ted Nelson Day at Chapman University, 2014 (Springer-Verlag) (via @TheTedNelson, 12 Jul 2015) A free Springer ebook edited by Douglas R. Dechow and Daniele C. Struppa. Chapters by Alan Kay, Brewster Kahle, Belinda Barnet, Ken Knowlton, Dame Wendy Hall, and others. Closing chapter What Box? by Ted Nelson. I highly recommend this book.
Tweet