Zoom in to focus, zoom out for awareness, bubble up items in the flow of work
May 9, 2011
·
Blog1672
· Posted by Greg Lloyd
There's been a lot of Web and Twitter discussion about the value of activity streams to promote broad awareness versus the potential problem of showing too much information and having important signals get lost in the flow. I believe that the best solution is to allow people to selectively zoom into activity streams, status and discussions - clipped by space, project, person or milestone - to focus on any particular activity in context. To focus more precisely, click a watch button to get notification when anything is added, changed, or discussed in a context you want to monitor carefully.
Traction TeamPage Release 5.2 adds mini-dashboards to make it simple to see status, activity, tasks, discussions and related articles or documents focused on a particular project or milestone, complete with sparkline diagrams to see at a glace what's happening over time. Each project, space, and person has an activity stream, making it simple to focus on what you care about - and shift your focus easily.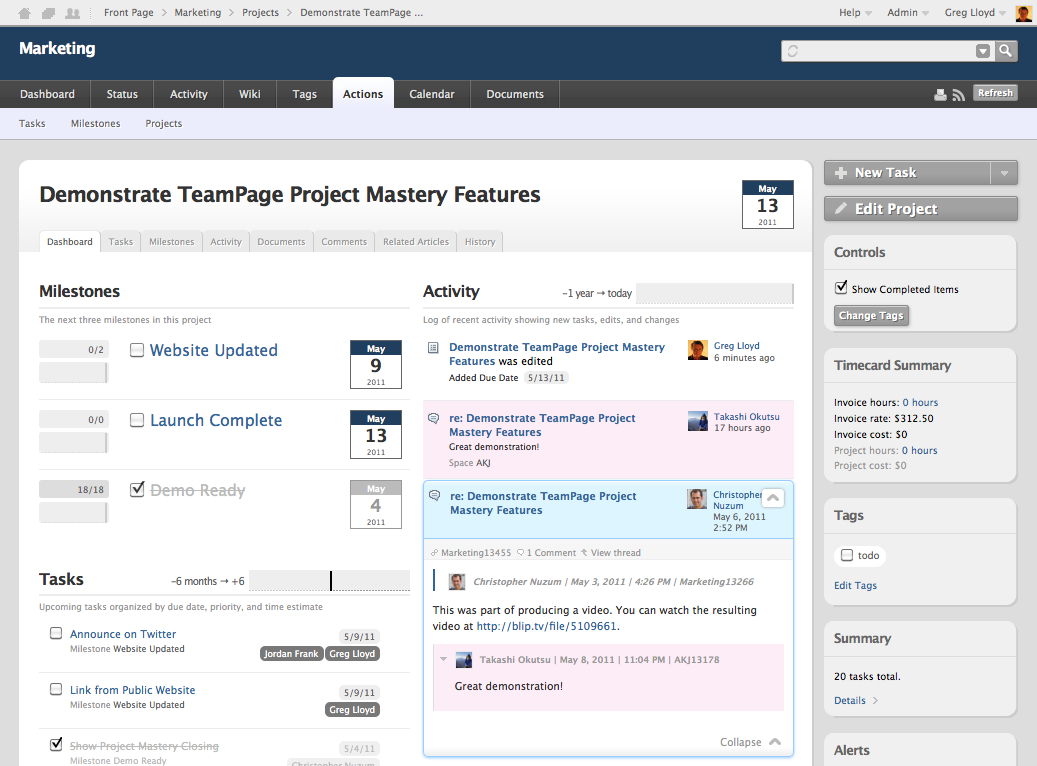 See Action Tracking with Tasks, Milestones, and Projects videos
You can also zoom out a broader view of all spaces you have permission to read, or people you choose to follow. This makes it easy to dip into the flow and read, search, or navigate by person, tag, task or discussion thread.
You can flip to your own profile to review and use the stream of your own activities, tasks, and calendar across all spaces and projects you have permission to see.
Flip to the profile of any other team member by clicking their name to review their activities, tasks, and calendar, limited to just what you have permission to read.
You can flag a post, project, tag, or space and receive an automatic notification (by email or Jabber) when a comment is added, edit is made, a specific tag is added (e.g. urgent) or other actions happen in the context of activities you want to watch closely. If you receive a notification by email, you can reply to that email and your comment is automatically added to the right discussion.
Because Traction TeamPage spaces carry access permissions, internal teams, customers, suppliers and other external stakeholders can freely tag, task, link and discuss anything they discover - even make more private comments on more public content.
Activity streams, search results, comments, email digests, notifications, and even tag clouds are automatically clipped to keep private activities private, but make everything you're allowed to see visible in context.
When you see something that looks important you can tag, task or comment on the relevant item to raise its visibility as an opportunity, an answer to an important question, or an issue to be addressed.
A TeamPage project creates a shared context where work actually gets done - with specific deliverables; as an open ended activity with a stream of actions and milestones; or as customer or client case to be tracked and guided to a desirable outcome. In each case, TeamPage's integrated action tracking makes it easy to recognize, track and handle exceptions or opportunities in the natural flow of work.
A TeamPage customer quoted in the Feb 2011 Deloitte Social Software for Business Performance study said:
"With Traction Software I can post meeting notes and assign action items to individuals. Then, they can go into the tool and write comments to update the group on the status of their action items as well as post deliverables. It greatly increases transparency and streamlines communications."
Related
Tweet