Introducing Online Workplaces - Greg's notes on Larry Cannell's July 2011 Webinar
July 8, 2011
·
Blog1694
· Posted by Greg Lloyd

Larry Cannell, Research Director, Gartner Group presented great slides and hosted an excellent webinar on July 7, 2011 based on his research and experience. Free registration gives public access to a recording of the Webinar and a copy of Larry's slides - at least for a few days (after than please check Gartner Webinar Archives). Please register and learn! Larry will also be leading sessions at Gartner Catalyst Conference 2011 San Diego, July 26-29. Larry's framework is very crisply stated, general and useful. The 65 slides include very helpful diagrams, examples, scorecard decision aids, and more. These are just top level points from my notes.
An IT Vision for Social Software: Introducing Online Workplaces

The emergence of a new layer of online capabilities, one that sits between rigid business applications and the dynamic world of the information worker, has gone unnoticed for years. Some have started to call this a social layer, inspired by the rising popularity of social software. However, it is better described as an online work layer because not all activities within an enterprise are social in nature, but they all support how work is done. Enterprises need to develop their own tailored vision for how this online work layer (which includes the use of social software) improves their business, rather than relying on vendor product positioning.

This webinar will describe a vendor-neutral framework that helps IT describe, manage and evolve collaborative and workplace technologies to maximize the effectiveness of their enterprise's information workers. ~ Larry Cannell, Research Director, Gartner
Introducing Online Workplaces
Larry Cannell, Research Director, Gartner @lcannell
Need to distinguish:
What (Business Objectives) vs How (Approach for accomplishing What)
What (business objective): Work
How: Unified communication, Email, conferencing, Productivity tools, Social Software, Workspaces, Content Management, Search
Defining a Work Layer
Enterprise Goals and Objectives -> Business Processes (PD, Mfg, Sales...) <-> Work Layer (Routine, Non-Routine) <-> People (individuals, teams, communities)
[ Very good slides distinguish needs and perspective as individual, as member of functional team, as participant in broad community and directed versus volitional participation ]
Online Workplace:
Organize/Manage Work (tasks, priorities, etc)
Facilitate Work Processes (ad-hoc, tacit)
Work as Individuals (attention management)
Work together (team, communities)
Capture and Reuse Intellectual Assets.
Online Workplace Relationships:
Business processes <- (tasks, priorities) -> Online Workplace <- (completing tasks, prioritizing work, planning, deciding) -> People
Human Capital (knowledge, experience, relationships) <- (discover, describe) - > Online Workplace
Structural Capital from Applications (CRM, ERP, PLM, SCM, etc) - (data) -> Online Workspace
Online Workplace Framework:
Individual environments, Group environments (Teams, Communities)
Knowledgebase
Business Applications, External Information
Group Environments - A spectrum of participation
directed - individual must participate to meet some joint objective or get certain kind of work done.
volitional - individual choses to participate or not, choses level of participation
Process (90% directed participation, 10% volitional participation)
Activity (50% directed, 50% volitional)
Community (30% directed, 70% volitional)
Network (10% directed, 90% volitional)
Recommendations
Position online workplaces as strategic assets
Take care of the individual worker
Expect to support multiple online workplaces
Develop new skills
Provide a roadmap
Demand what you need from your vendors
Online Workplace Framework and Traction TeamPage
Larry's framework is descriptive and intentionally vendor and technology neutral.
I believe Traction TeamPage is very well aligned and easy to explain in terms of Larry's framework. Expect me to make liberal use of his framework and terminology - with credit to Larry. Here's a start:
Traction Software Introduces Social Enterprise Web - The TeamPage workplace spans external Sharepoint, Documentum, Exchange, Email and other Systems of Record using TeamPage Attivio Plus, bookmarking and content badging. Unlike some analysts and vendors, I believe the future workplace will be search and content coupled (just like the public Web) rather than exclusively activity stream coupled.
I see activity streams as a great alerting mechanism to help maintain situational awareness with respect to human centered or software events spanning many systems. But event awareness is no replacement for unified, permission-aware search combined with link, tag, task and comment capabilities spanning systems of record. That's what TeamPage delivers, enabled by Attivio's Active Intelligence Engine™ (AIE) technology.
The Future of Work Platforms: Like Jazz - When you watch a skilled team in action, it's like watching a great jazz group - there are themes, there is structure, and there are limits, but a team shines in individual excellence combined with coordination, improvisation, innovation, handling exceptions, and seemingly effortless awareness of where others are and where they're headed.
Intertwingled Work - The record of collaborative and observable work needs to span multiple external and internal systems to provide a simple and coherent view of activities
Traction Roots - Doug Engelbart - A dynamically evolving knowledge base ... [consists] of three primary knowledge domains: intelligence, dialog records, and knowledge products (in this example, the design and support documents for a complex product). ~ Doug Engelbart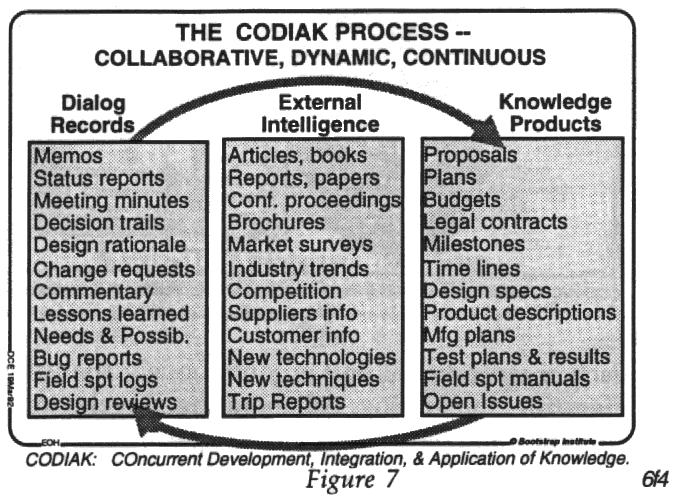 See also Enterprise 2.0 Schism - Why Peter Drucker and Doug Engelbart should be the patron saints of Enterprise 2.0. And what to do with social media gurus and sinners.
Doug Engelbart | 85th Birthday Jan 30, 2010 - Irresistible quotes and references.
Tweet