9 Nov 2010 | Traction® TeamPage 5.1 Introduces Integrated Action Tracking For Improved Team Performance

Santa Clara CA / Enterprise 2.0 — November 9, 2010 — Bridging project management and the flow of work Traction® Software, the leader in enterprise social software innovation, today announced new Traction® TeamPage capabilities to help teams work together more effectively. Traction TeamPage Release 5.1 makes it easy for individuals to see their own action plans, the status of shared projects, team workload, individual progress, and team progress toward common goals – all within the context of the TeamPage collaboration and communication platform where the planned work can also be managed or done.
One click can add a task tag to any Traction page, comment, status post or paragraph, with automatic rollup of actions by person, date, milestone or project. Projects can be used to collect a set of tasks and milestones to organize activities by date or common goal. This clear and simple model is focused on the lightweight coordination of individual and team actions that drive every business activity – from the simplest to the most complex.
"Every business activity involves some measure of action planning and tracking. People have lived with action tracking systems that range from a list on the back of an envelope, to getting things done style planning, to multilevel project plans for large and complex products like aircraft," said Greg Lloyd, President and Co-founder of Traction Software. "TeamPage 5.1 introduces an action tracking model that's squarely focused on making it simple for individuals and teams to plan and coordinate the critical daily, weekly and monthly activities that drive effective teamwork. This level of coordination can quickly become too complex for the simplest systems, but is too detailed – and close to real life – to be effectively modeled, tracked and managed in real time using complex and expensive project management software."
"We worked collaboratively with TeamPage customers in small, medium and large organizations to define, develop, refine and test Traction's new integrated action tracking model. Customer response has been uniformly enthusiastic, validating my belief that TeamPage 5.1 fills an important gap for project management in a way that makes immediate and practical sense for collaborative work at any scale."
Benefits
Individuals - Clear and simple personal action tracking
Teams – Easier coordination, fewer and more productive meetings
Project managers – Better visibility, easier to match plan vs actual status
For the organization – Reduced overhead, improved quality and performance
Planning and action tracking visibly linked to work as its being done.
Traction TeamPage Release 5.1 Feature Highlights
Action tracking seamlessly integrated with TeamPage collaboration and communication capabilities
Each TeamPage Space can have an Action and Calendar tab to collect, navigate and track actions in a particular private or public business context.
Each TeamPage Profile page can have an Action and Calendar tab to collect, navigate and track actions associated with that individual
Automatic rollup of tasks by person - across all spaces you have permission to see
Automatic rollup of tasks by space – focused on one business context
Automatic rollup of tasks across all spaces – that you can see
Automatic rollup of tasks open / tasks completed – by person or space
Automatic rollup of estimated work required – by person or space
Summary and navigation of tasks grouped by Milestone – a sharable date with a name
Summary and navigation of tasks grouped by Project - a named collection of tasks and milestones
Automatically maintained Action Tracking Calendar – viewable by person, by space, or rolled up across all spaces you have permission to see.
Subscribe to Action Tracking calendars in Outlook, Google Calendar and other iCal compatible calendaring systems
TeamPage integrated search, navigation and email or Jabber notification handles tasks along with all other types of activity.
Task activity becomes visible (and can be filtered) a part of the TeamPage activity stream viewed by space, or by person as part of each person's profile.
Simple, fast and great looking user interface – action tracking uses Traction's Google Web Toolkit based Proteus user interface technology for a user experience that looks and feels more like a client application that a typical Web interface.
TeamPage Microsoft Outlook Social Connector – Show task, status, other activity and profiles in Microsoft Outlook to provide social context when using Outlook email, calendars, and Microsoft Office applications.
Task List for TUG Planning Project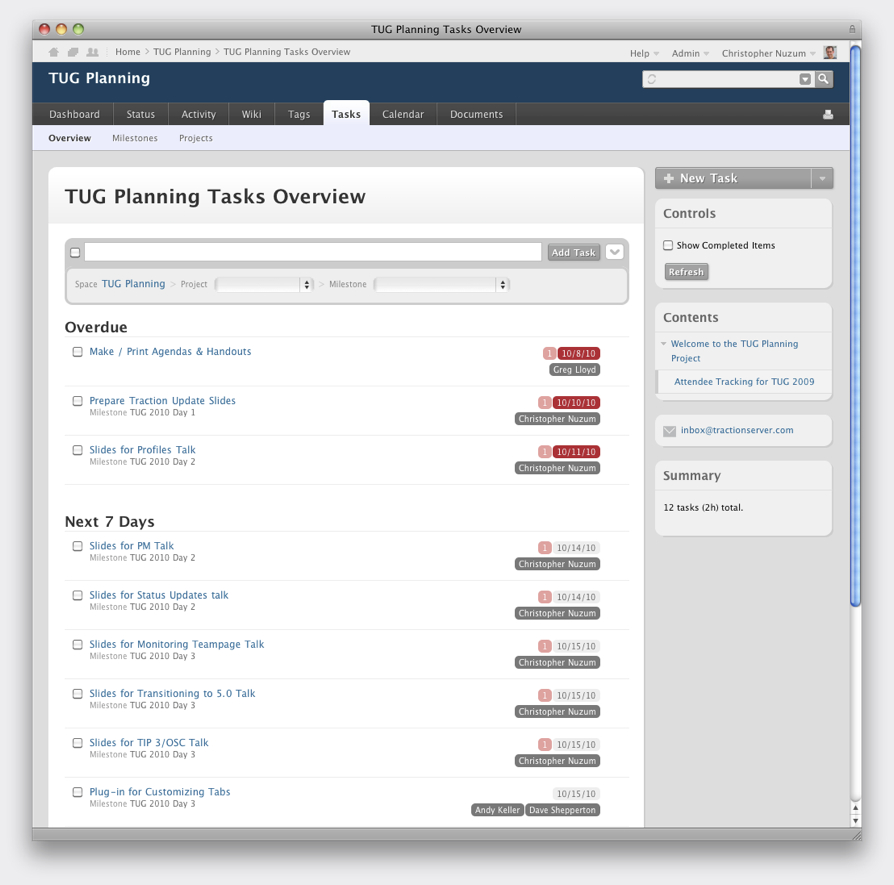 Click to expand Task description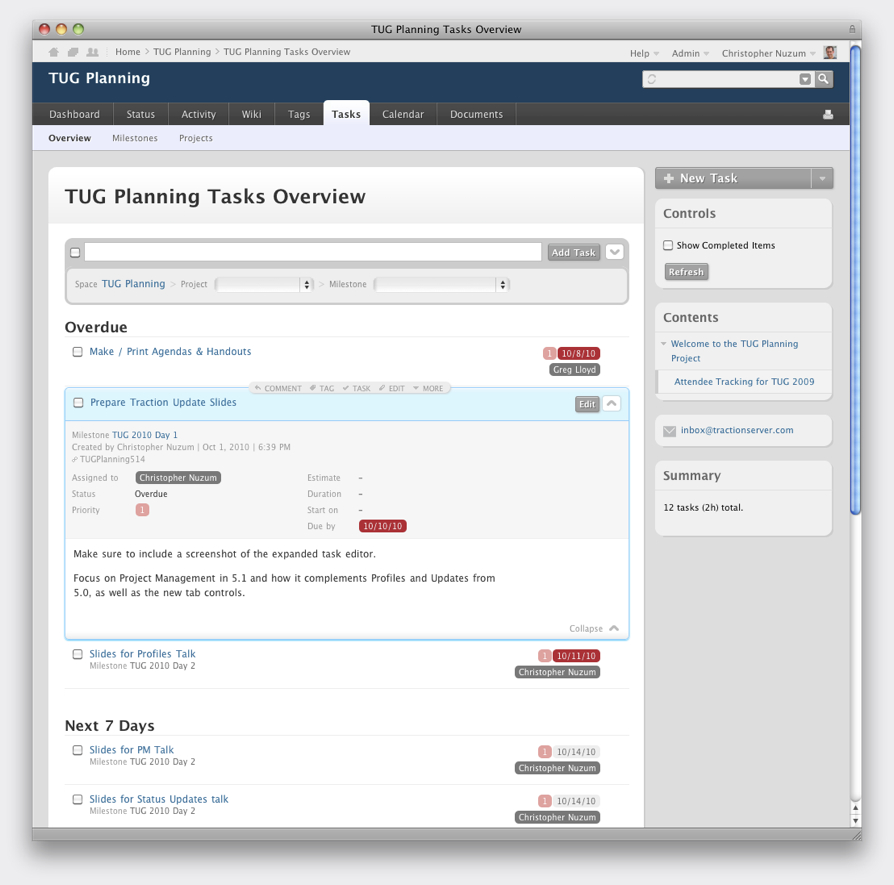 Tasks by person, shown with their Profile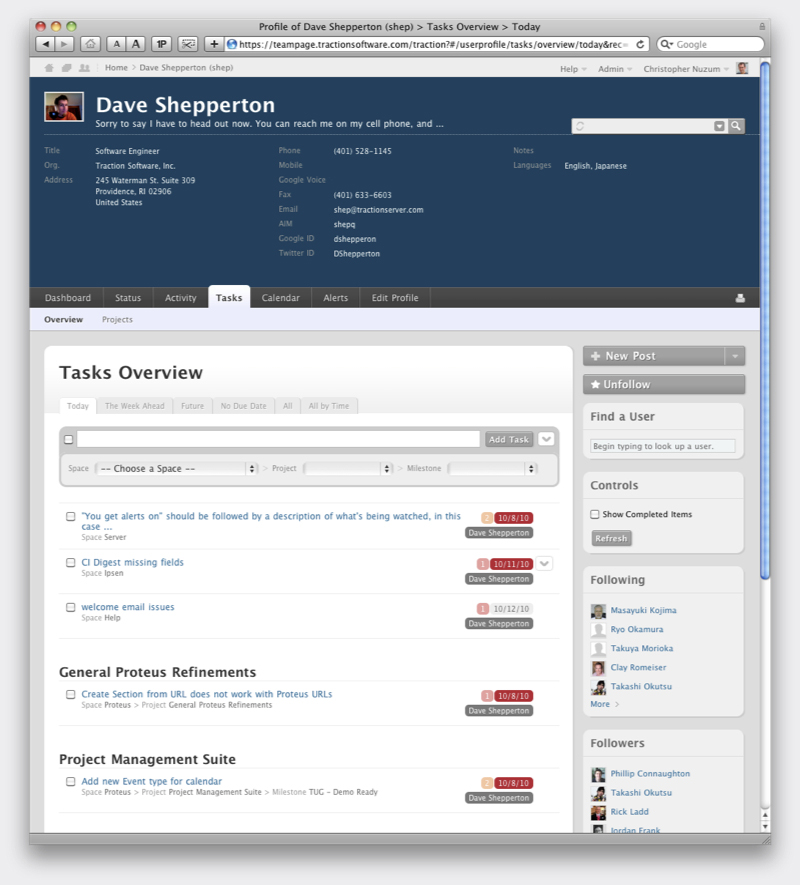 Tasks calendar in TeamPage, Outlook, or other iCal calendar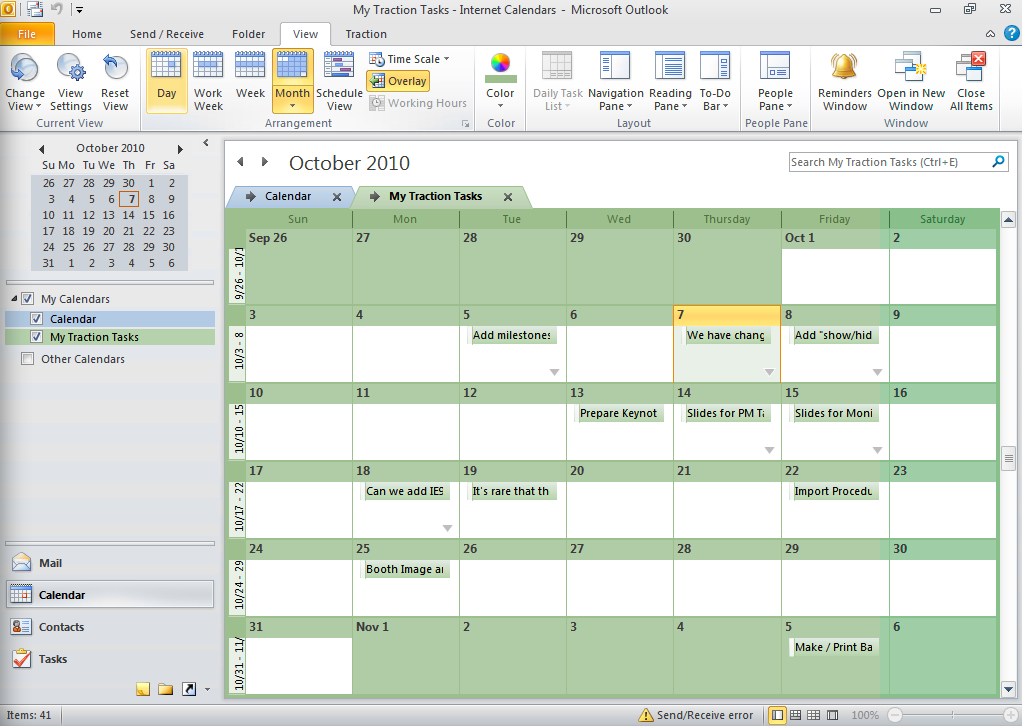 [ See also Action Tracking with Tasks, Milestones, and Projects (video) ]
TeamPage 5.1 Preview Shipping Today
A preview release of Traction TeamPage 5.1 is available today for download and installation by customers including users of the free five-user TeamPage configuration and customers using Traction's Amazon EC2 TeamPage hosted services. TeamPage 5.1 is now running on Traction Software's TeamPage Community server which is open for free access (registration required) see TractionSoftware.com. Release 5.1 is a free upgrade for TeamPage customers covered by a software maintenance subscription.
About Traction TeamPage - Breakthrough in Enterprise 2.0 Collaboration
Traction TeamPage 5.1 is the latest version of Traction's award-winning and patented Enterprise 2.0 social software platform. TeamPage seamlessly integrates collaboration, personal profiles, action tracking, social networking and activity views to enable people to work securely and easily with internal and external stakeholders across private and public spaces. Commercial and government organizations of every size use TeamPage to connect people working together on plans, projects, research, case management, competitive intelligence, issue tracking, and customer or supply chain communication.
About Traction Software
Traction Software provides business and government organizations with social software that enables groups and teams of all sizes to collaborate, communicate and work more effectively. Traction Software's easy to use TeamPage™ software creates a secure hub that collects, organizes, links and shares sources of information in context over time, making it simple to find and use the right information at the right time. Traction TeamPage has been named "Best Enterprise Wiki" by InfoWorld. Traction Software has repeatedly been named one of the 100 Companies that Matter by KMWorld and is a winner of the RedHerring100 and eContent 100 awards. The company distributes its products directly and through global partners. Based in Providence, Rhode Island, Traction Software is a privately held corporation with financing from investors including In-Q-Tel and Slater Interactive. For additional information, visit Traction at tractionsoftware.com
Traction is a registered trademark and TeamPage is a trademark of Traction Software Inc. All other names are trademarks of their respective companies.
###
Tweet