10 May 2011 | Traction® TeamPage 5.2 Introduces Dashboards for Action Tracking, Project and Case Management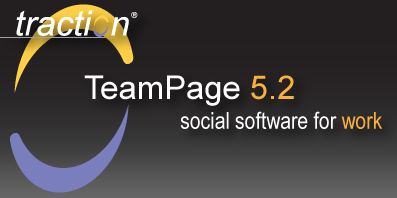 Providence RI — May 10, 2011— Traction® Software Inc, the leader in enterprise social software for work today announced Traction® TeamPage Release 5.2 with new capabilities to make it simple to track actions, show activity, watch status, and follow discussions embedded in the flow of collaborative work. TeamPage 5.2's new activity dashboards show actions, status and work in context using a format that's easy to read and reduces information overload. These dashboards allow people dive into and watch activity associated with projects or milestones they want to focus on, while also seeing, searching, exploring and connecting with others across a broad view of activity organized by business context as well as person.
"There's been a lot of Web and Twitter discussion about the value of activity streams to promote broad awareness versus the potential problem of showing too much information and having important signals get lost in the flow ," said Greg Lloyd, President and co-founder of Traction Software Inc. "Traction TeamPage makes it simple to zoom into activity streams, status and discussions - by space, by project, person or milestone - when you want to focus. You can register for automatic email or Jabber notification when anything is added, changed, or discussed in a context you want to watch carefully."
"You can also zoom out a broader view of all spaces you have permission to read, or people you choose to follow. This makes it easy to dip into the flow and read, search, or navigate by person, tag, task or discussion thread. Because TeamPage spaces carry access permissions, internal teams, customers, suppliers and other external stakeholders can freely tag, task, link and discuss anything they discover - even make more private comments on more public content. "

"When you see something that looks important you can tag, task or comment on the relevant item to raise its visibility as an opportunity, an answer to an important question, or an issue to be addressed. A TeamPage project creates a context where work actually gets done - with specific deliverables, as an open ended activity with a stream of actions and milestones, or as customer or client case to be tracked and guided to a desirable outcome. In each case, TeamPage's integrated action tracking makes it easy to recognize, track and handle exceptions or opportunities in the natural flow of work."
Traction TeamPage 5.2 is the first of a series of enhancements of the integrated action tracking, communication and collaboration capabilities that Traction Software introduced in November 2010 with TeamPage 5.1. Traction Software developed this integrated model and enhancements in close collaboration with customers and partners including Attivio and Applied Knowledge Company Inc (Japan). A TeamPage customer quoted in the Feb 2011 Deloitte Social Software for Business Performance study said:
"With Traction Software I can post meeting notes and assign action items to individuals. Then, they can go into the tool and write comments to update the group on the status of their action items as well as post deliverables. It greatly increases transparency and streamlines communications."
Traction TeamPage Release 5.2 Feature Highlights
Project Dashboards - Activity dashboard with milestones, tasks, recent activity, related articles and documents See Action Tracking videos
Milestone Dashboards - Activity dashboard with tasks, recent activity, and more - across projects
Sparkline graphs show project and milestone tasks due and activity over time at a glance
Dashboards designed for mobile smartphone and tablet use
Activity Feed for Projects and Milestones - Include activity on related tasks and articles
Support use of email to post new tasks, status updates, milestones
Improved Activity Feed - Filter settings are remembered as personal defaults
Email digest shows task summary - Shows tasks overdue, due today and 5-day preview of upcoming actions
Personalized Calendar - Personal calendar only shows milestones associated with projects and milestones you participate in
Drag-and-drop file uploads and inline images - For Web browsers that support new HTML 5 drag-and-drop standards See video
Create Task Based on Forum Request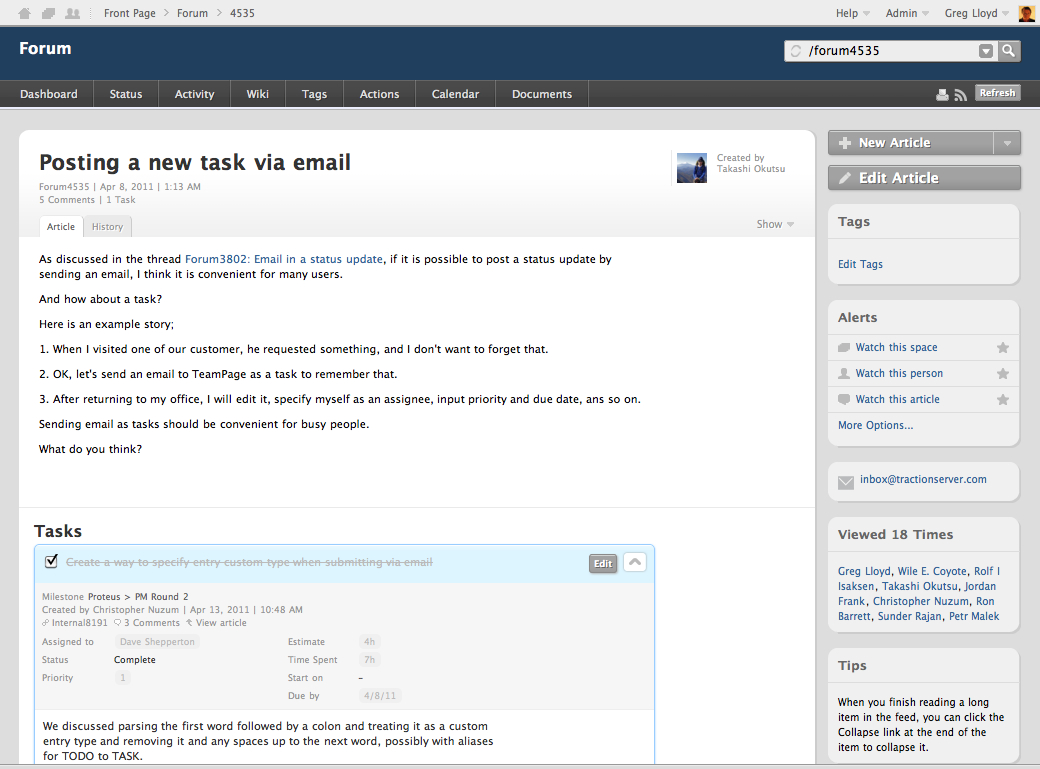 TeamPage 5.2 Shipping Today
Traction TeamPage 5.2 is available today for download and installation by customers including users of the free five-user TeamPage configuration and customers using Traction's Amazon EC2 TeamPage hosted services. TeamPage 5.2 is now running on Traction Software's TeamPage Community server which is open for free access (registration required) see TractionSoftware.com. Release 5.2 is a free upgrade for TeamPage customers covered by a software maintenance subscription.
About Traction TeamPage - Breakthrough in Enterprise 2.0 Collaboration
Traction TeamPage 5.2 is the latest version of Traction's award-winning, patented Enterprise 2.0 social software platform. TeamPage seamlessly integrates collaboration, personal profiles, action tracking, social networking and activity views to enable people to work securely and easily with internal and external stakeholders across private and public spaces. Commercial and government organizations of every size use TeamPage to connect people working together on plans, projects, research, case management, competitive intelligence, issue tracking, and customer or supply chain communication. Traction TeamPage customers have recently won 2010 Forrester Groundswell, 2011 Computerworld Laureate awards for effective collaboration, and are featured in the Feb 2011 Deloitte Social Software for Business Performance report.
About Traction Software
Traction Software provides business and government organizations with social software that enables groups and teams of all sizes to collaborate, communicate and work more effectively. Traction Software's easy to use TeamPage™ software creates a secure hub that collects, organizes, links and shares sources of information in context over time, making it simple to find and use the right information at the right time. Traction Software has repeatedly been named one of the 100 Companies that Matter by KMWorld, winner of the RedHerring100 and eContent 100 awards and "Best Enterprise Wiki" by InfoWorld. The company distributes its products directly and through global partners. Based in Providence, Rhode Island, Traction Software is a privately held corporation with financing from investors including In-Q-Tel and Slater Interactive. For additional information, visit Traction at tractionsoftware.com
Traction is a registered trademark and TeamPage is a trademark of Traction Software Inc. All other names are trademarks of their respective companies.
###
Tweet