21 June 2011 | Traction Software Introduces Social Enterprise Web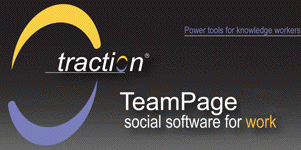 Discover, Discuss, Tag, Task, and Share Content stored in SharePoint, Documentum, File servers, Exchange, SQL Databases, and the Web Boston, Mass / Enterprise 2.0 Conference Booth #418 — June 21, 2011 — Traction® Software Inc, the leader in social software for work, today announced Traction® TeamPage Attivio Search Plus to index and search external sources, and Traction® TeamPage Social Enterprise Web to discuss, tag, task, share and badge internal or external content. These TeamPage options connect TeamPage with structured data or unstructured content in sources including Microsoft SharePoint, EMC Documentum, Microsoft Exchange, file servers, SQL databases, intranets, and the public Web. [ Download Traction TeamPage Social Web handout (.pdf) ]
Using TeamPage Attivio Search Plus and TeamPage's Social Enterprise Web, external documents, pages, and transactions are now able to become social objects seamlessly integrated with Traction TeamPage's action tracking, search, collaboration and communication. Enterprise 2.0 2011 will be taking place June 20-23 at the Hynes Convention Center, Boston.
"A question found in a customer email stored in Exchange, an issue with a new drug application filed in Documentum, a comment on a legacy document stored in SharePoint, or the S: drive of a file server, can be discovered, discussed, tagged, and tasked for follow-up action in TeamPage, without converting, importing or moving data from its original source." said Greg Lloyd, President and Co-founder of Traction Software, Inc. "This approach is affordable, practical, easy to understand, use, deploy and maintain. We use indexing and search as the bridge to seamlessly connect TeamPage with what Geoffrey Moore and the AIIM task force call 'Systems of Record'."
TeamPage Attivio Search Plus leverages Attivio® Active Intelligence Engine™ (AIE) technology to provide unified information access (UIA) and deep content analysis that's simpler, more practical and more scalable than piecemeal, bottom-up integration or synchronization with each separate System of Record. With UIA and TeamPage's Social Web, Systems of Record look and act like they are part of the same TeamPage fabric used for collaboration, communication, and action tracking in the flow of daily work. It's as simple to understand and use as the Web – but also supports reliable permission-aware access and collaboration across all sources.
TeamPage Social Enterprise Web features enable TeamPage to share, tag, comment, task, index and search linked public Web or company intranet pages. TeamPage Web browser extensions, inline badges and comment widgets link external Web sources to TeamPage discussion and provide visual feedback (similar to the way Disqus adds shared comments to pages on the public Web). The content of the linked external page is automatically indexed and by included in Attivio search results, making it simple to find content referenced by a TeamPage external link. The TeamPage Badge includes a count of the number of internal TeamPage social actions linked to that external Web object, and offers one-click access to associated TeamPage actions, shown in context for easy review or followup action.
TeamPage Attivio Search Plus - Feature Highlights
Extends Traction's current Attivio Active Intelligence Engine technology partnership to index, analyze, search, and navigate external sources and content repositories.
Permission-aware, unified information access spanning TeamPage and external Microsoft SharePoint, Documentum, file servers, Microsoft Exchange, SQL databases and other sources.
The TeamPage user interface makes permission-aware search and navigation over content from TeamPage and external sources simple and fast.
Search and navigation can be faceted using selected sources and source-specific metadata, including author, data type, status and more.
Search and navigation can be faceted using automatically extracted keyphrase, location, sentiment and other attributes from Attivio's deep content analysis of structured and unstructured data.
External sources and access rules can be continuously and incrementally indexed.
Simple to install, deploy and maintain.
Pricing and packaging are designed to make Traction Attivio Search Plus an affordable and attractive option for small to mid-size organizations.
TeamPage Social Enterprise Web – Feature Highlights
Use TeamPage to discuss, tag, task or share internal or external sources using search, TeamPage Badges or bookmarking.
TeamPage Attivio Plus provides the ability to index, share and use content from siloed systems and SQL databases that have no Web addressable interface.
Indexing TeamPage tags, discussion and tasks associated with external content improves relevance ranking for search by adding social business context.
New TeamPage Web browser bookmarklet can be used to discuss, tag, task, share and index selected pages on the public Web or a private intranet.
New TeamPage Badges can be added to any Web page to provide a one-click action to discuss, tag, task or share that page.
TeamPage Badges shows a live count of the number of social actions associated with that page, with one click to open and see the actions in context.
TeamPage Badge counts and navigation are permission aware – including only what you have permission to see based on TeamPage access control rules.
TeamPage search results and activity streams include avatars to show who has discussed, tagged, tasked or shared that internal or external content.
One click expands any search result or activity item inline to quickly review details without leaving the page.
One click opens external documents or records in a Web browser or native client (depending on the source).
Metadata shown for each source type, styling and behavior of source-specific detail shown with search results and in activity streams can be easily customized using the Traction's Skin Definition Language plug-in for that source.
TeamPage Attivio Search Plus
TeamPage Attivio Search Plus will be a separately priced TeamPage option with pricing dependent on number of Attivio connectors and tiered external document count limits. At E2.0 Boston 2011, Traction Software will show permission-aware SharePoint and file server external connectors.
TeamPage Social Enterprise Web
Social Enterprise Web capabilities will be a separately priced TeamPage option available to new customers or as upgrade for current Traction TeamPage customers. The Social Enterprise Web capabilities can be used in combination with the current TeamPage Attivio Advanced Search option which indexes and navigates files and documents stored in TeamPage share folders or as attachments, as well as with the new TeamPage Attivio Search Plus option which extends this capability to external sources.
Availability
Traction Software will demonstrate both capabilities at booth #418 Enterprise 2.0 Boston. General availability of both options is expected for the third quarter 2011. Please contact sales@tractionsoftware.com for pricing and configuration information.
About The Enterprise 2.0 Conference
The Enterprise 2.0 Conference explores the integration of social and collaborative technologies in the enterprise, from both strategic and tactical perspectives. This Conference and Expo Pavilion focuses on the tools and best practices to drive business performance across workforce, customers, and partners networks. For more information visit: e2conf.com.
About Traction TeamPage – Social Software Meets Project Management
Traction TeamPage seamlessly integrates collaboration, personal profiles, action tracking, search, social networking and project dashboards, enabling people to work effectively with internal and external stakeholders across private and public spaces. Commercial and government organizations of every size use TeamPage to connect people working on plans, projects, research, case management, competitive intelligence, issue tracking, and social customer or supply chain management. Traction TeamPage customers have won 2010 Forrester Groundswell and 2011 Computerworld Laureate awards for effective collaboration, and are featured in the independent Feb 2011 Deloitte Social Software for Business Performance report showing measurable results including a 61 percent reduction in time required for compliance activities leveraging Traction TeamPage capabilities.
About Traction Software
Traction Software provides business and government organizations with social software that enables groups and teams of all sizes to plan, collaborate, communicate and work more effectively. Traction Software's TeamPage™ software creates a secure hub that collects, organizes, links, tracks and shares sources of information in context over time, making it easy to find and use the right information at the right time. Traction Software has repeatedly been named one of the 100 Companies that Matter by KMWorld and as one of the eContent 100. The company distributes its products directly and through global partners. Based in Providence, RI, Traction Software is a privately held corporation with financing from investors including In-Q-Tel and Slater Interactive. For additional information, visit Traction at tractionsoftware.com
###
Fig 1 - TeamPage Task added to SharePoint sourced search result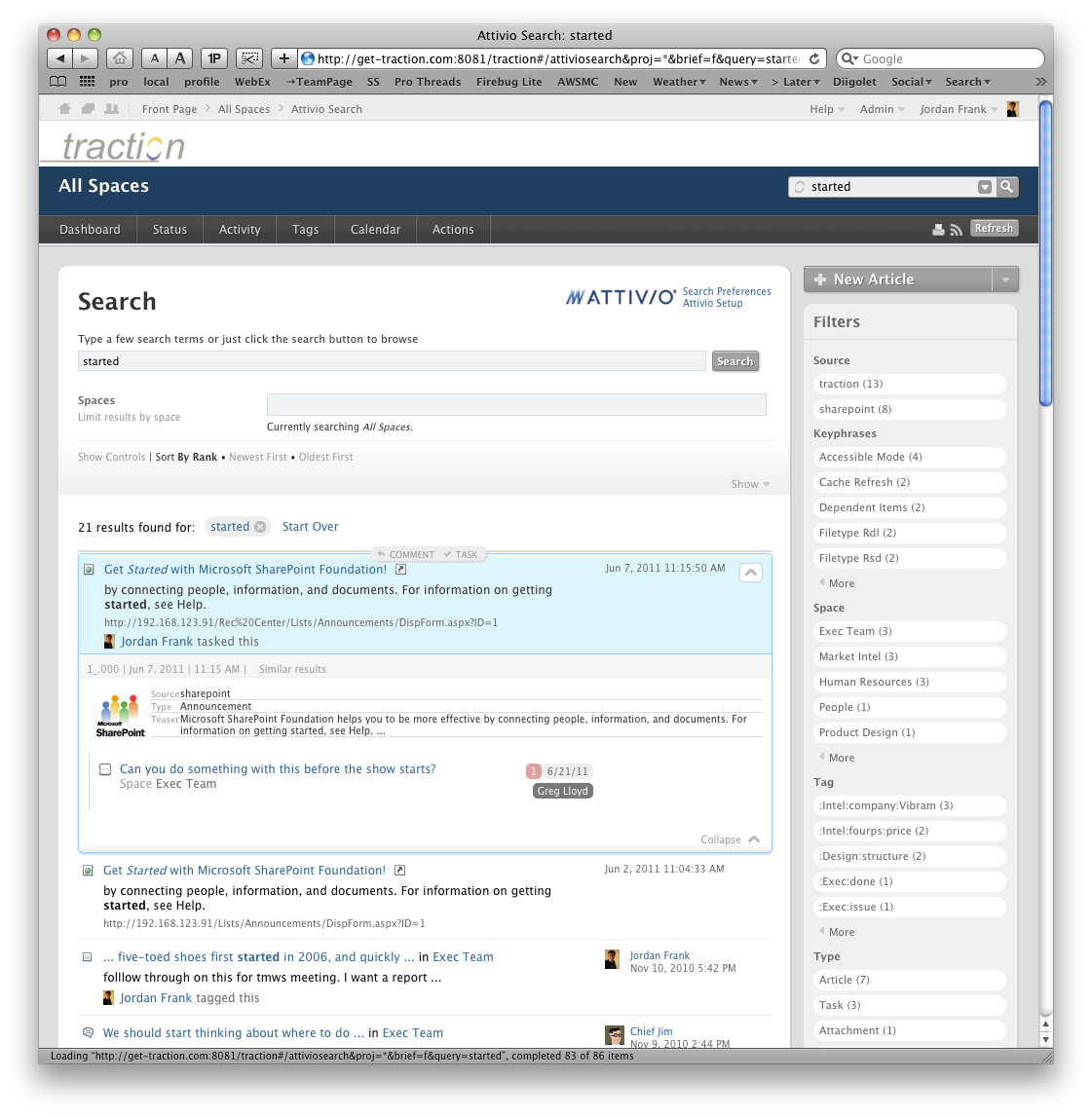 Fig 2 - Click TeamPage badge to discuss, task, tag, or share Web page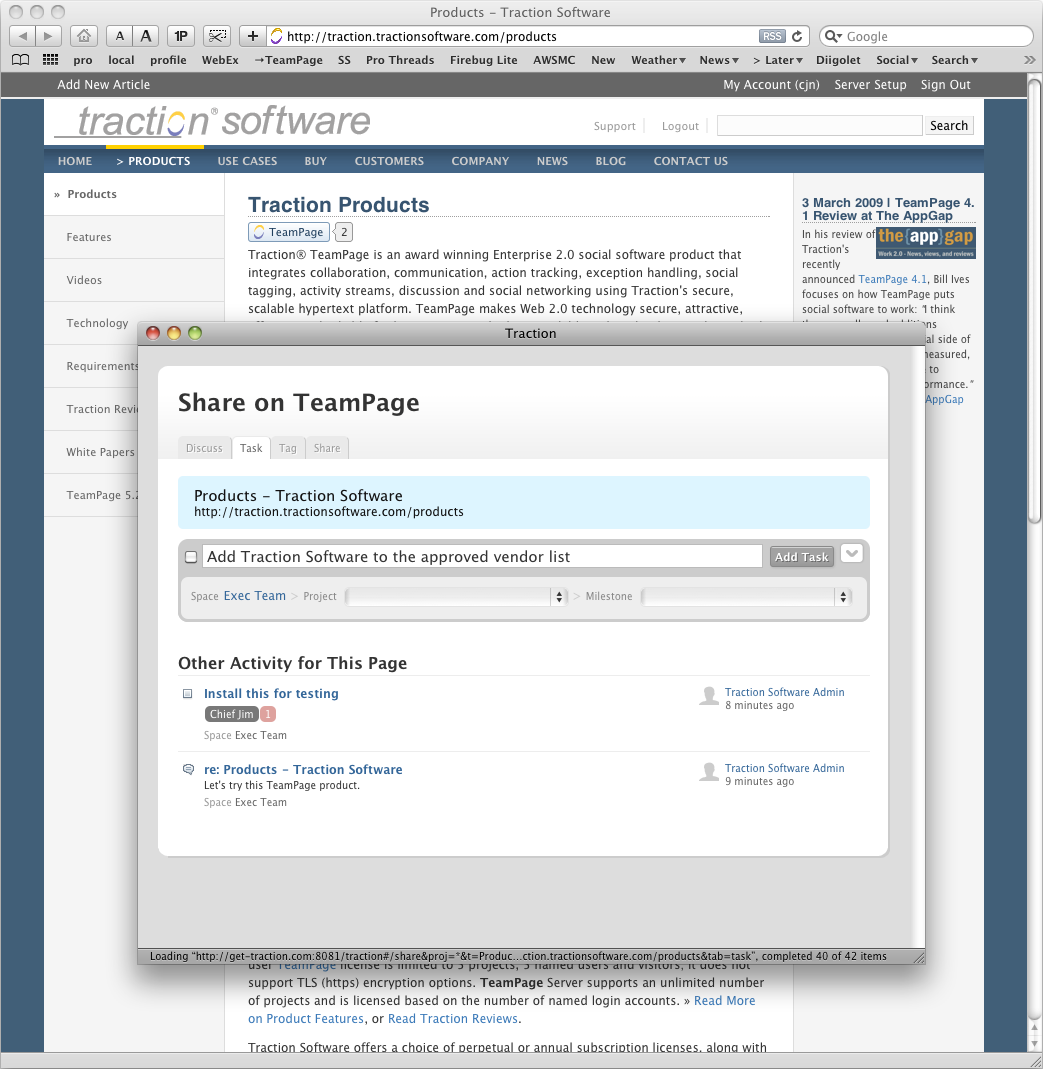 Fig 3 - Project Dashboard Activity shows new Task linked to Web page (red box)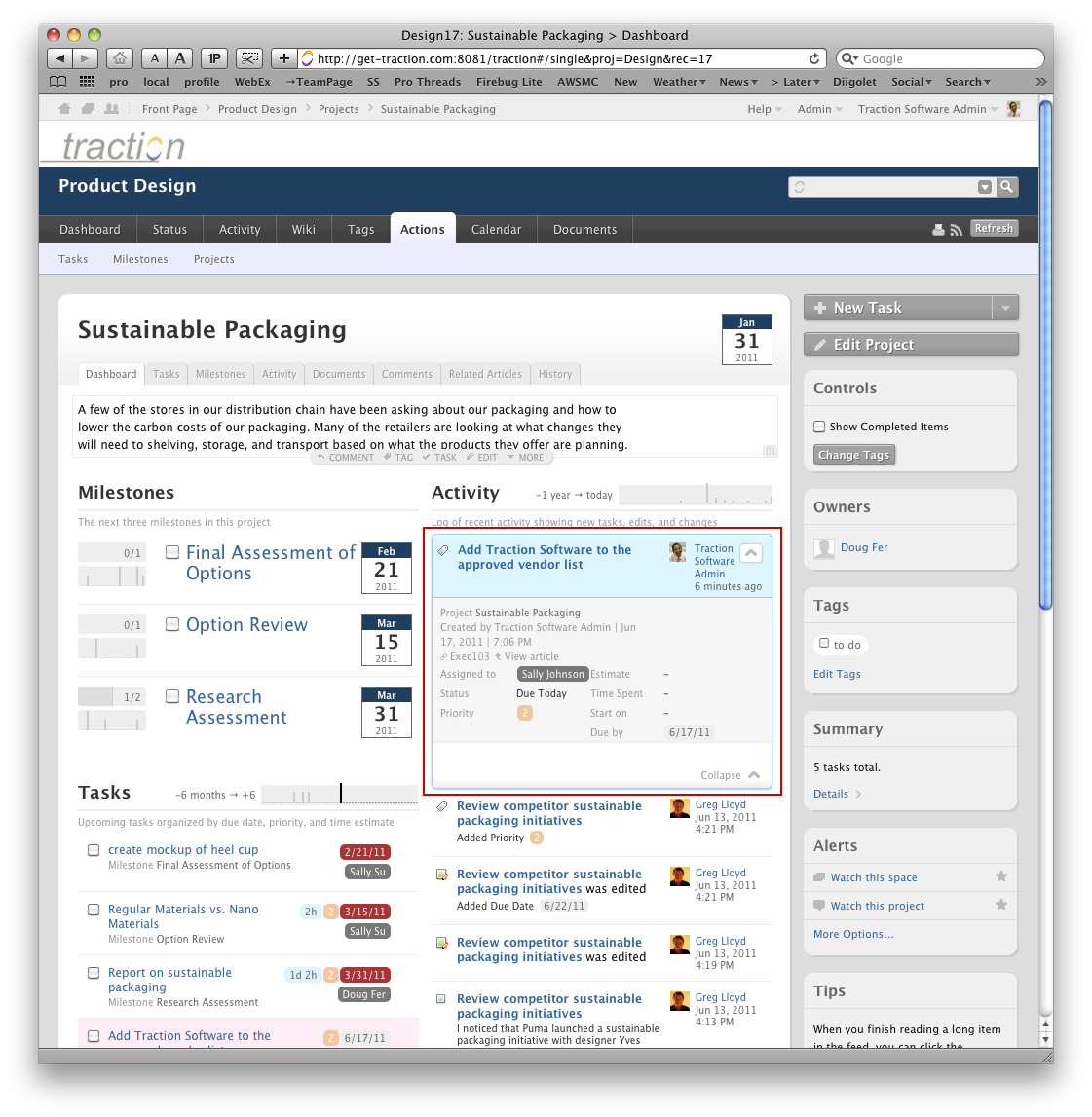 Fig 4 - Search for "started"
Search results show social tag and task actions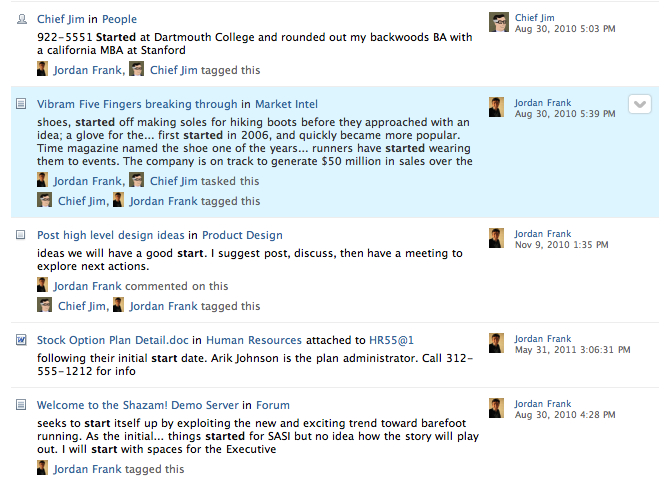 Traction is a registered trademark and TeamPage is a trademark of Traction Software Inc. All other names are trademarks of their respective companies.
###
Related
Tweet