TeamPage Attivio® Search Module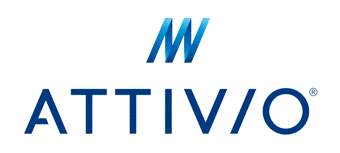 The TeamPage Attivio Search Module is unique in its ability to provided "better-than-the-web" search results over the Traction TeamPage corpus. The TeamPage Attivio Search module includes the best page ranking algorithms available in the enterprise, but its ranking performance is augmented by "web-like" meta data available in Traction TeamPage wiki and blog pages including number of incoming/outgoing links, number of comments, number of labels and recency. This is all done with permission filtering of the results (including tag clouds), and a powerful set of navigators for content drill down.
The features include:
Adds Page Rank sorting to Newest First and Oldest First sort options. Rank order is determined by linguistic and link analysis, and is also influenced by number of labels and comments on any page.
Adds up-to-date, permission-filtered search support for over 370 document formats which may be attached to articles, comments or stored in project share folders.
Includes results for similar words (stemming). A search for the word Companies may provide results for the word Company.
Extracts and ranks relevant keywords (linguistically determined nouns or noun phrases) and entities. Entities include explicit data such as Traction projects, labels(tags) and authors. Entities also include implicit (dynamically derived from text) including keywords, companies, person names, locations, and e-mail addresses.
Custom entities can be made as well, so you can create an entity to expose product names, customer names, or regular expression based entities based on product SKUs, Invoice numbers, or other codes.
Provides multi-term selection and drill-down navigation, including AND, OR and NOT expressions, enabling users to quickly understand their search set and narrow tens or hundreds of thousands of results to just a few that are highly relevant using keywords, entities, and other Traction supplied meta data such as Projects, Labels and Authors.
Adds a Find Similar button to pages, comments and search results to make it simple to find related content based on a "document vector analysis" of the selected page.
Adds search filter by content types including pages, comments, emails and files.
Provides notification for any query via RSS or Atom.
Term Search
As with any search engine, start by searching for one or more terms. You can specify sorting criteria, date range, and content type. In the example here, the user searched for four terms including blog, wiki, rss, km and take-off.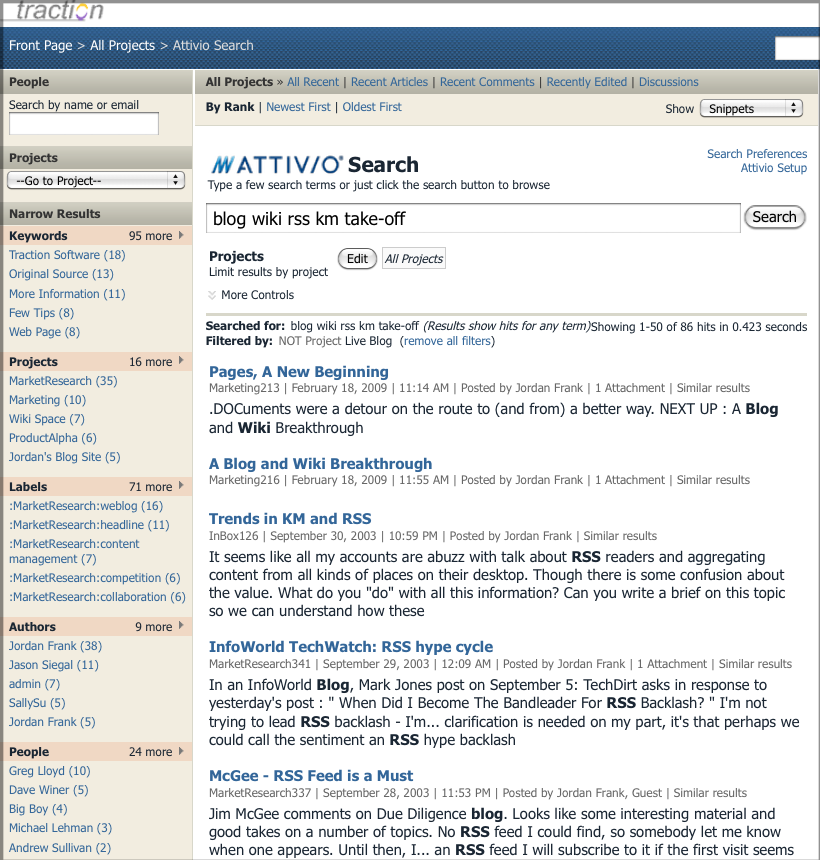 You can see that there are, overall, 86 hits. Looking at the content, you can see several articles, a comment (with a ↑ character so you can click to the comment or the top of the thread), and a PowerPoint file (with a link to the file and the page, MarketResearch526, to which its attached)
Next to each result is a Similar Results link which will execute a new search based on the document vector for the given article, comment or file.
In the left column, you can see result counts (or Rank Relevance score) for extracted entities including Keywords, Project Space, Tags, Authors and People (names mentioned). Other entities not shown include Companies (names mentioned, content type (article/page, comment, email, attachment, shared file), document type (html, Word, PDF, and so on), sentiment (positive / negative), and location (cities, states and countries mentioned).
Tag Clouds and Social Tagging
You can use labels for categorization and for social tagging. One of the entities in the left navigators in the TeamPage Attivio Search Module includes tags which are used in each of the Traction projects. The expanded navigator (see image below) looks like a typical tag cloud, but it's permission sensitive, spans projects, is time sensitive (tags from the last 30 days, for example), and allows multiple selections.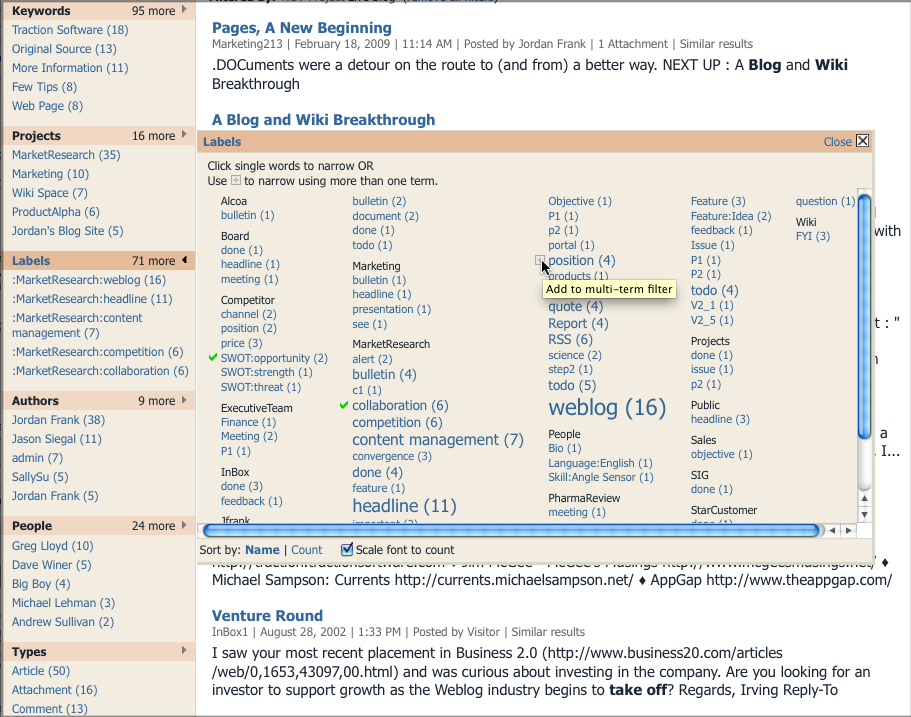 The same "cloud" model applies to all the entity navigators and is described more fully below.
Drill Down Navigation
When you click on any of the navigator headings in the Narrow Results column, you see the top 99 results in each. They are organized very much like a "tag cloud," with the ability to make more relevant entities larger.
Select one or more from each group. In this case, you see that technical trends, instant messaging, and km teams are selected from the Keywords navigator. The navigators for all other keywords are very similar.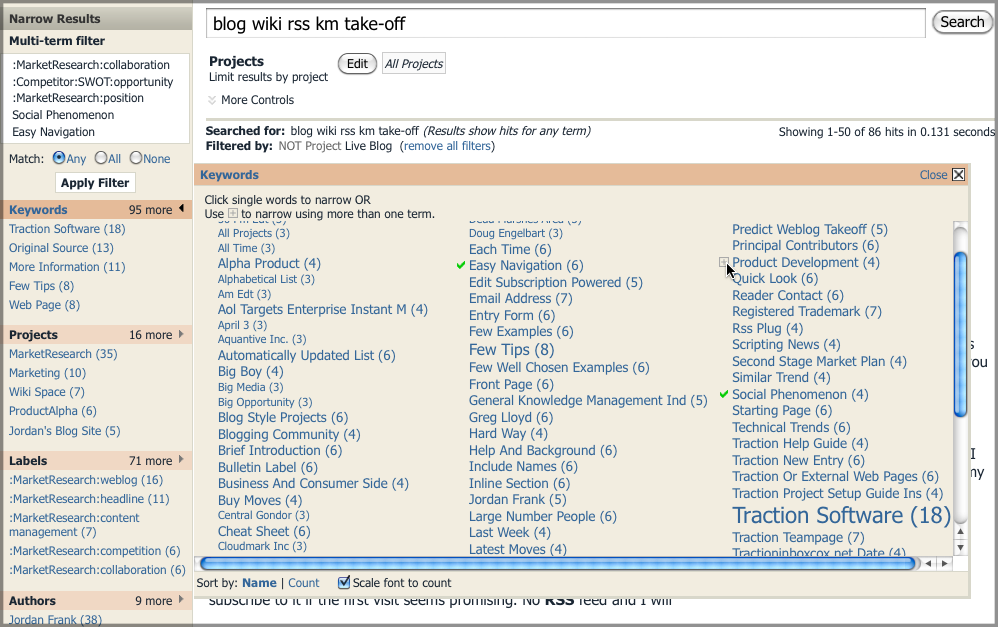 Click on the image fragment above to see the full screen shot. From the Companies navigator, the user chose Documentum (5 results) and In-Q-Tel (2 Results). From the Projects navigator, the user chose MarketResearch (29 Results) and ProductAlpha (3 Results). The user also chose automatically recognized keywords, including Technical Trends, Knowledge Management, and Instant Messaging.
Finally, the user chooses to match Any (an OR expression) rather than All (an AND expression) or None (a NOT expression). The filters can be applied serially, so you can create a combination of AND, OR and NOT expressions.
Having chosen several filter options, the search is narrowed to 15 results and all the Navigators are updated based on the content of the new result set.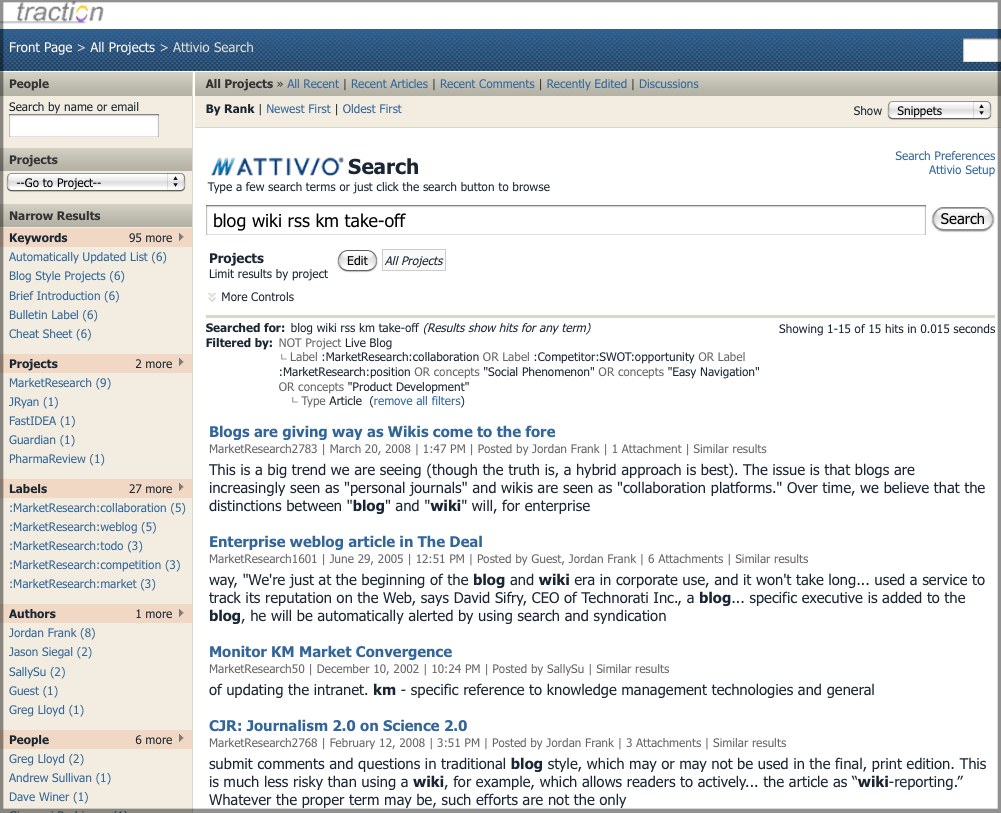 Permission Filtered Entities and Results
All drill down navigation as well as content search is automatically permission filtered. A user with broader permissions will see keyword, entity and other content navigator counts based on the actual content they have permission to read. For example, the result set and tag or label cloud for one user may differ greatly from another, depending on the projects or spaces they have permission to read.
Expertise Identification & Social Networking
For any given search result, you can easily see the top 100 authors referring to the search terms and the top 100 person names which exist within the text of the pages, comments and documents in the search result. This allows you to quickly see who the internal experts as well as the internal or external experts (or persons of interest) may be for any set of terms you wish to query. This concept is explored in depth, including supporting screen shot examples in Searching Content for People.
Authors are easy to find and contact as you can just click on their user name to open their User Profile page which shows their most recent contributions and, if available, contact information.
Notification via RSS and ATOM
Every search result from the Attivio Search Module will display a link to the RSS or Atom based XML feed for that search. This complements the Dynamic RSS and Atom Feed capability already present for all Traction view types and queries.