Comments and Threaded Discussions
Comments and full threaded discussions may be initiated on articles or even at the paragraph level.
Comments on comments allow for stacked and nested threaded discussions that mirror user behaviour in email. It is even possible to post comments across spaces.
The same forms used in publishing and editing are used for comments as they are in articles, so you have the full publishing facilities and edit history on comments as you do on articles. The in-line comment form also supports Auto-Save, so if you start working on a comment, then close your browser or otherwise lose your connection, you can re-load your auto-saved draft comment.
Commenting on Paragraphs and Comments
In this example, you see an article with some questions. The article-level comment form appears at the bottom of the article, as you would expect.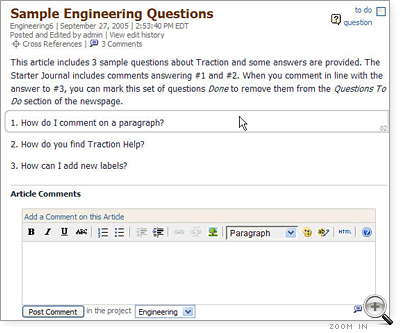 However, you want to comment on question 1. You hover your mouse over question 1 to raise the Context Menu and a Comment form appears between question 1 and question 2, so you enter your comment: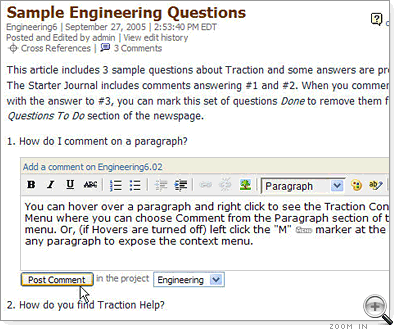 You see that the article has refreshed to show the comment added beneath question 1.
You also notice that a few more comments have been added to question 2: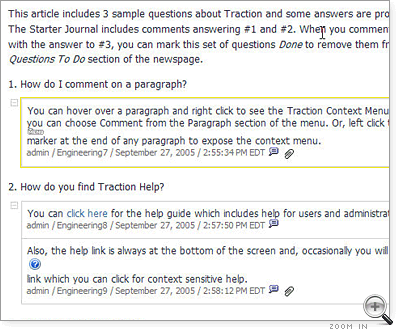 Focusing in on question 2, you hover over the first comment in the thread: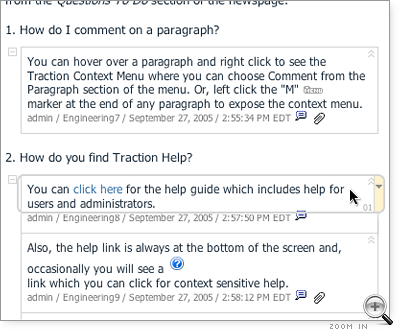 The Comment form expands within the first of two comments: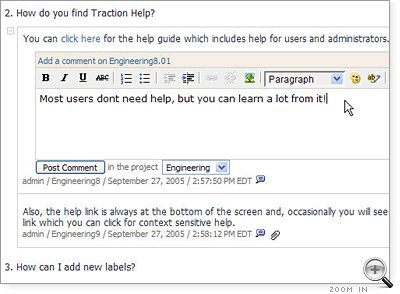 Finally, that comment is also posted to the thread:
Discussion Thread Map
Sometimes discussion threads get long and complex. Traction can display many levels of nested comments to make things easy on the eyes. A visual representation of the thread is also provided to help you make sense of long discussions. Underneath the article, you will see a Discussion Thread map.

The map shows which article or comment is selected and charts out how the threads are organized. You can click the map to go to any level of the thread and, from there, use a similar map to click back.
Cross Space Commenting
There are cases where an article is posted to one space but you want to comment to a different space. You can comment across spaces to:
Direct the comment to a different audience
Give the comment different read permissions
A comment posted to a Research space may be relevant to the Engineering team. In that case, direct the comment to the Engineering space. It will show up as a comment under the Research space article (if the reader has permission to see Engineering space content), but will appear in the Engineering Project Recent Articles section and email newsletter section.
In another case, a comment posted to a Research space may be the beginning (or end) of a private discussion in the Executive space. For those with permission, it will show up in the Research space article, but will be invisible to everyone that can't see the Executive space.
Tweet