TeamPage Attivio® Search Module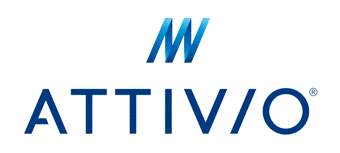 Posting your communication and knowledge to TeamPage is only as useful as your ability to get it out. Dashboards in TeamPage provide great structured navigation. Adding Premium Search provides great unstructured navigation. Your users have come to love outstanding search on the web. The TeamPage Attivio® Search Module meets the need for your enterprise, including drill down navigation users will love.
The module extends basic date ordered search over titles and article text to include:
Page Rank sorting as well as Newest First and Oldest First sort options. Page Rank order is determined by content freshness, linguistic and link analysis, and the number of tags and comments on any page.
Index over 370 document formats which may be attached to articles, comments or stored in share folders.
Linguistics support to Include results for similar words (stemming). A search for the word Companies provides results for Company and a search for run provides results for ran.
Entity extraction and multi-term faceted drill down on over 10 categories including keywords (linguistically determined noun phrases), spaces, tags, people/locations/companies mentioned, authors, editors, projects, assignees, content type (task vs. event vs. article), document types (PPT, DOC, XLS, PDF, Others) and more. Facets let you quickly understand their search set and narrow tens or hundreds of thousands of results to just a few that are highly relevant.
Automatically change boolean AND to OR search when there are no results for all terms.
Click Find Similar on search results to make it simple to find related content based on a "document vector analysis" of a selected result.
All search results include link to monitor any query using RSS or Atom.
Use a Search URL to power a Section in a TeamPage Dashboard.
Need to search content in your enterprise? The TeamPage Attivio Plus option can even extend the Premium Search to include content from your databases, file servers, websites, and more.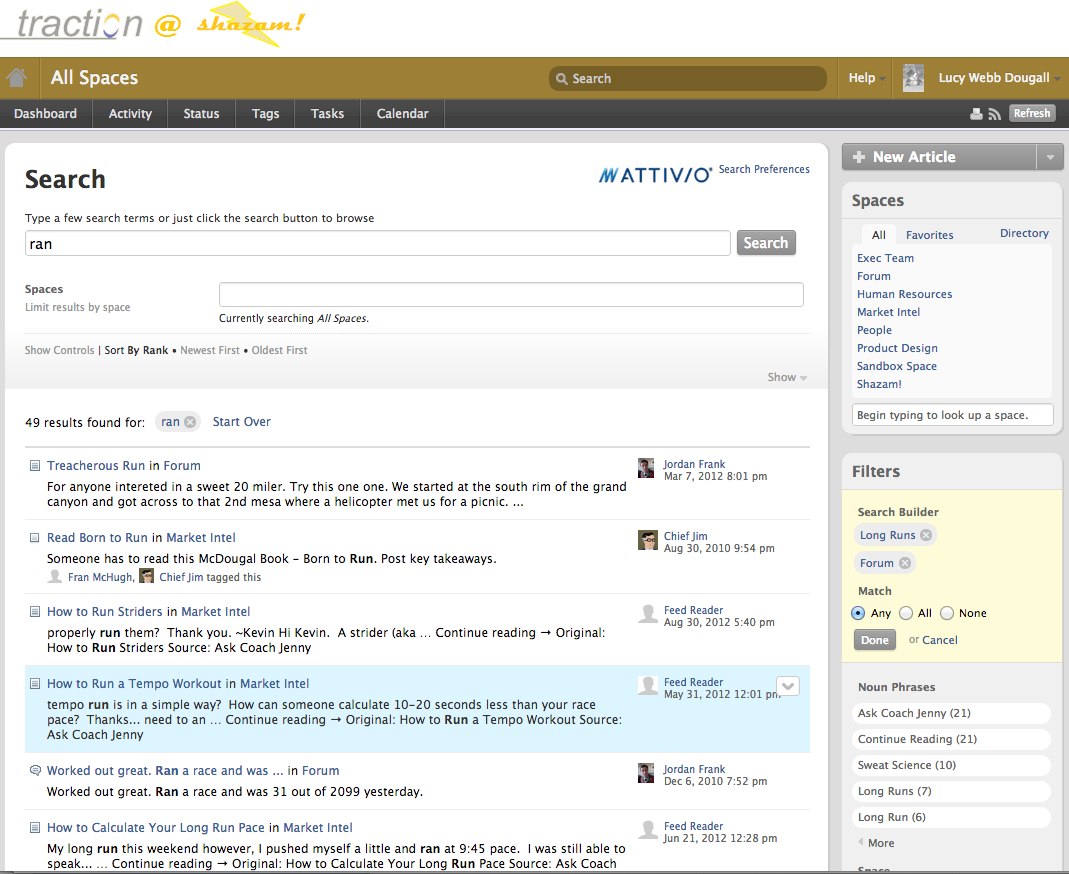 Ranked results for the term Ran includes hits on Run. Search builder on the right shows selected entities including key phrase "Long Runs" and the TeamPage space "Forum"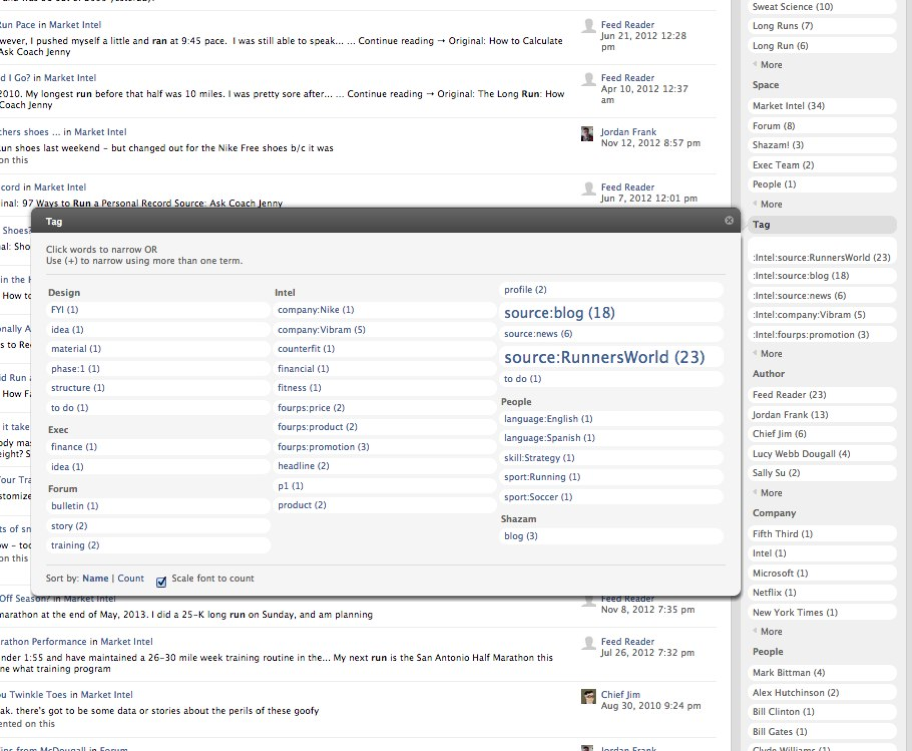 The Tag facet shows a tag cloud for the search result. Choose one or more to add to the Search Builder filter.
Permission Filtered Entities and Results
All drill down navigation as well as content search is automatically permission filtered. A user with broader permissions will see keyword, entity and other faceted entity counts based on the actual content they have permission to read. For example, the result set and tag or label cloud for one user may differ greatly from another, depending on the TeamPage Spaces they have permission to read.
Expertise Identification & Social Networking
For any given search result, you can easily see the top 100 authors referring to the search terms and the top 100 person names which exist within the text of the pages, comments and documents in the search result. This allows you to quickly see who the internal experts as well as the internal or external experts (or persons of interest) may be for any set of terms you wish to query. This concept is explored in depth, including supporting screen shot examples in Searching Content for People.
Authors are easy to find and contact as you can just click on their user name to open their User Profile page which shows their most recent contributions and, if available, contact information.
Tweet