The Collector
Traction's Collector is a unique feature that provides an easy way to bookmark Traction articles and comments for later reference or immediate action. You can have multiple collections, each with its own set of articles.
From any single article view or view of multiple articles, you can easily choose to gather them into the Collector.
Here is an image of the Collector with the Sample Collection selected. There are 7 articles in the collection. Two are selected, and the user intends to Export the Articles.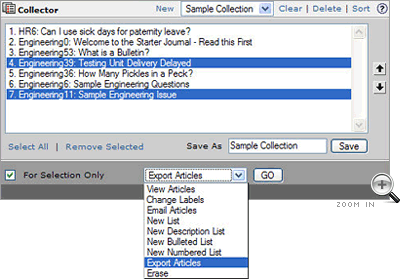 From the collector, you can select some or all articles or comments and then take an action:
View Articles: See all the articles on one page
Change Tags: Perform a batch label change, adding, removing or replacing tags.
Email Articles: Raise a form to Email Out your selection
New List: Create a new article pre-populated with Linkig to collected articles
Export: Raise a form to Export to Word or PDF
Erase: If you have permission, you can use the collector to select articles and erase them all at the same time.
The Collector is associated with each user. So your collections are private, unless they are shared as Page Sections or as a template for new articles.
Tweet