Action Tracking and Project Management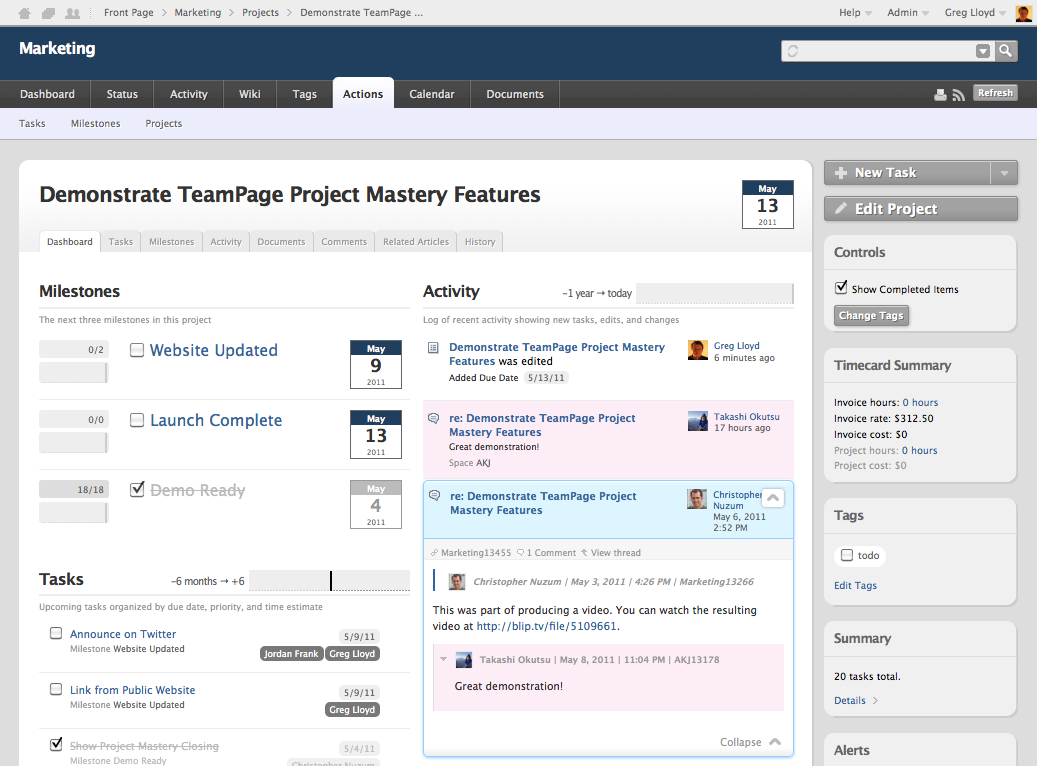 Traction® TeamPage dashboards show actions, status, and activities in the context of work, using a format that's easy to read and reduces information overload. You can quickly jot down Tasks, or right click a paragraph in TeamPage to add a Task tag to that paragraph. Integrated action tracking is a standard feature of every TeamPage product.
Activity dashboards allow people dive into and watch activity associated with projects or milestones they want to focus on, or quickly shift to activities organized by Space or Person - linked to related pages, comments, status or documents. Like everything in TeamPage, action tracking is permission aware - you only see content you have permission to see - this makes it possible to share action tracking with customers, suppliers and other stakeholders while keeping confidential material private.
TeamPage's Social Enterprise Web option gives you freedom to add a Task tag, comment or share pages you find on the public Web or your company's intranet. You can connect a page using your Web browser, add a TeamPage badge, or add a TeamPage comment widget to your intranet pages. You share what you find with people you work with, and link actions and discussion to the Web pages you use every day or discover.
TeamPage's Attivio Plus option gives you the freedom to find, task, tag, comment and share documents or records in your file servers, SharePoint, Documentum, or SQL databases, connecting TeamPage and the servers and line of business systems you use every day.
See Action Tracking videos and Teampage Solutions: Project Management
Action Tracking Highlights
Project Dashboards - Activity dashboard with milestones, tasks, recent activity, related articles and documents
Milestone Dashboards - Activity dashboard with tasks, recent activity, and more - across projects
Sparkline graphs show project and milestone tasks due and activity over time at a glance
Dashboards designed for mobile smartphone and tablet use
Activity stream can focus on specific Projects and Milestones - Include activity on related tasks and articles
Support use of email to post new tasks, status updates, milestones
Email digest shows task summary - Shows tasks overdue, due today and 5-day preview of upcoming actions
Personalized Calendar - Personal calendar only shows milestones associated with projects and milestones you participate in
Automatic rollup of tasks by person or by space (business activity)
Subscribe to Action Tracking calendars in Outlook, Google Calendar and other iCal compatible calendaring systems
Task activity becomes visible (and can be filtered) a part of the TeamPage activity stream viewed by space, or by person as part of each person's profile.
Benefits
Individuals - Clear and simple personal action tracking
Teams – Easier coordination, fewer and more productive meetings
Project managers – Better visibility, easier to match plan vs actual status
For the organization – Reduced overhead, improved quality and performance
Planning and action tracking - Visibly linked to work as its being done.
Simple and effective exception handling - Quickly resolve problems and jump on opportunities.
Create Task Based on Forum Request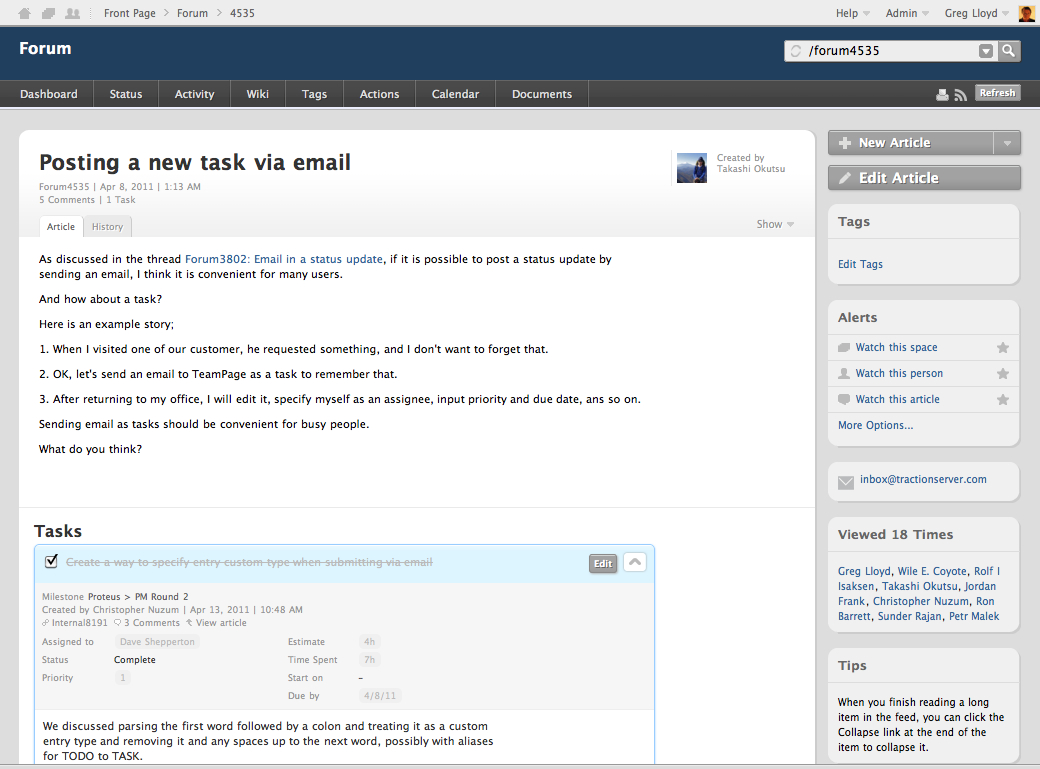 Related
Tweet