Tags for categorization and social tagging
Traction shines when it comes to categorizing your content. Tags (or labels) are used to organize or describe information within and across project spaces. Social Tagging, with permission filtering is enabled as users in each project can define their own tags, and apply them to content (pages or comments) in any space they can see.

Tags might be used to express:
Priority (e.g. Headline or Priority 1)
Content Type (e.g. Meeting or Issue)
Status (e.g. Open, To Do or Done)
Category (e.g. Car, Truck, Weblog, KM)
You can use tags together (e.g. Issue and To Do) and use sections, drill down navigation, or search to access a cross-section of content.
Tags may be applied at the article and paragraph level. Few content management systems offer this level of fine-grain tagging. You can also assign tags to comments.
Viewing Content by Tag
Here's an example showing how tags work. In this case, the FAQ tag in an Engineering space was clicked. You can see that there are three matches. The Add to This Topic button in the upper right makes it easy to add a new article tagged FAQ and it will show up in this area.
Tag Cloud by Date
The count shown next to each tag tells you how frequently its been used on article pages and comments. With Calendar Navigation, you can click to any date range and see the updated tag count for that time slice, then navigate into the content. This allows you to see which tags are "important" over all time, or in a current time slice such as this month, this quarter, or this year.
Tag Cloud by TeamPage Attivio Search Module Result
With the optional TeamPage Attivio® Search Module, a tag cloud (and other entity "clouds" for authors, projects, keywords, companies, names and locations) is provided for each search result. The Search result (and resulting tag cloud) is permission filtered and can be time sensitive.
Control Level of Detail Shown
To make browsing in multi-entry views easier, you can minimize or reduce the visible content of individual articles by clicking its minimizing icon...
... Or you can switch view options for all entries on the page by changing Brief Content to the Details view: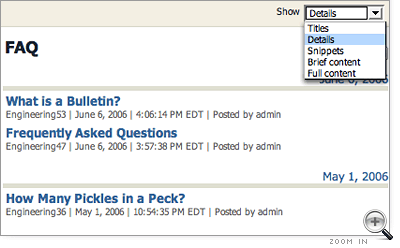 Viewing Content by Tag Added or Removed Date
You can view content by tag based on the date order in which the pages were published, or you may view them based on the date a given tag was added or removed. So, if you publish an article and tag it Requirement and assign a To Do tag as well, then you can later view the Requirement articles based on when the To Do tag was removed and the Done tag was added. This way, you can track progress of a project, or better understand how categories have changed over time.
Paragraph Level Tags
You may want to assign one or more tags to a paragraph to call it out as important to a certain category, or for further action. In this example, the user will add the Question and To Do tags to the 2nd paragraph. Simply right click on the 2nd paragraph to raise the context menu for that paragraph and select change tags: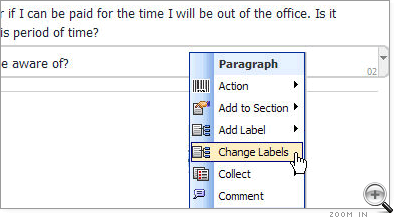 The Change Tags dialogue pops up, and the Question and To Do tags from the HR project are chosen: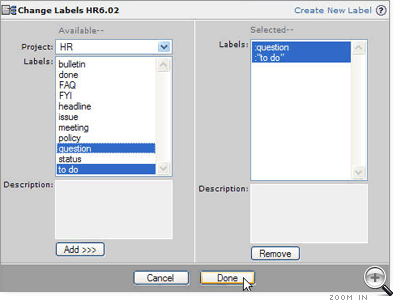 And finally, the article is updated with the new labels applied:

Quick Tag Changes
The context menu shown above also provides easy access to add or remove tags as well as to choose Actions, such as "remove Priority 1 and Priority 2, then add Priority 3" which the administrator defines.
To Do and Done are special tags that allow you to easily click the checkbox to toggle back and forth between To Do and Done states.
Tag Change History
Traction records who changed which tags when. Learn more about this in Audit Trails.
Tweet