KUKA Systems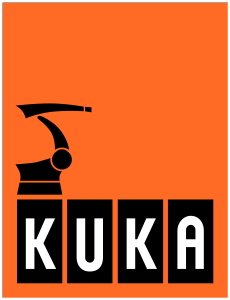 KUKA is one of the world's leading suppliers of robotics as well as plant and systems engineering. Their Enterprise Applications group deployed Traction® TeamPage in 2006 to support a process for collaborative Issue Tracking for their deployed enterprise information system.
They've extended the use of Traction TeamPage to support capture of procedural knowledge, audit compliance, and six sigma style continuous improvement processes. In the near term, they are looking to extend the simple model for using TeamPage from their Enterprise Applications group across their intranet; to replace the current intranet infrastructure used to manage departmental sites. It will also be used as a wiki to document key processes and other core knowledge that's required for every day management and support of the business.
About KUKA
KUKA has been in the automation technologies business since 1898. They build robotics systems for factory automation and are a leading worldwide supplier of assembly and welding systems, and other related machinery, servicing the automobile, aerospace and energy industries.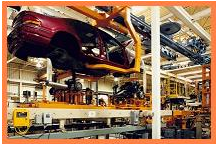 Their products and services are targeted at automating manufacturing operations including technologies for joining, assembly and handling.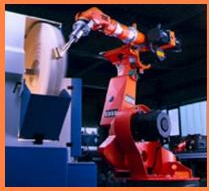 Before TeamPage
Prior to the creation of Tom Woodman's Enterprise Applications department in 2005, all the software selection and business process change decisions were made within each respective department.
This was problematic when architectures conflicted and data had to integrate across systems. More importantly, problems that persisted across departments were difficult to solve without an ability to cross departmental lines.
Woodman's Enterprise Applications team began their work by discovering the business process needs, exploring the disparate data stores and identifying architectural issues.
The Enterprise Applications charter required teams of cross-functional domain experts to come together around pressing business process problems. These teams were responsible for identifying issues and large scale business process change. A tool for keeping track of all of the knowledge that was captured, decisions made, and outstanding issues was critical.
They also saw a need to show an audit trail to show what configuration changes were made to any software system on any given date.
Getting Traction through Social Process
Traction TeamPage, an enterprise social software platform, was deployed in 2006 to track issues, post tasking items for Continuous Improvement (CII), and keep an audit trail of system changes. The use case flexes TeamPage's capability to support blog style journaling of issues over time, editing to refine issue definitions, threaded discussion of the issues to determine path to optimal resolution, and social tagging to provide just-enough structure around the process..
Ultimately, issues are captured through social means and resolved through a social collaborative process that is open for company wide oversight and recognizes participants for their contributions.
An issue can be a development request or a business process or technical problem. In either case it represents a road block that needs solving, as opposed to a question which may be asked and answered for convenience and to accelerate a person's work on a given problem.
This diagram explains how issues are entered, scored, assigned, and discussed. Then a solution is built, tested and put into production.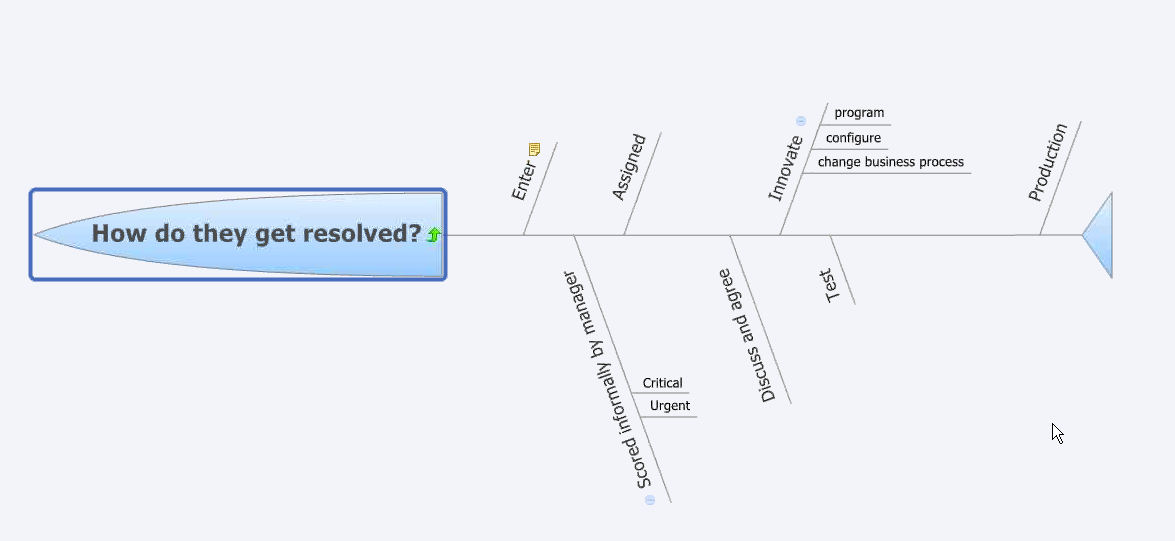 As an IT person, Tom has always had to work on complex projects but without direct control over anyone. In the Enterprise Applications group, this sort of problem was expected as his group does not have line of business control over any of the departments.
While Traction TeamPage couldn't offer any organizational power and control, the use of it to identify and work on issues created new levels of transparency and the ability to pull people in to better understand the universe of issues they face, within and across departments, and get people involved in the solving problems..
The Traction Front Page offers a view across the application areas, including a roll-up of all activity (Recent Articles) and a focus on open issues across all department areas: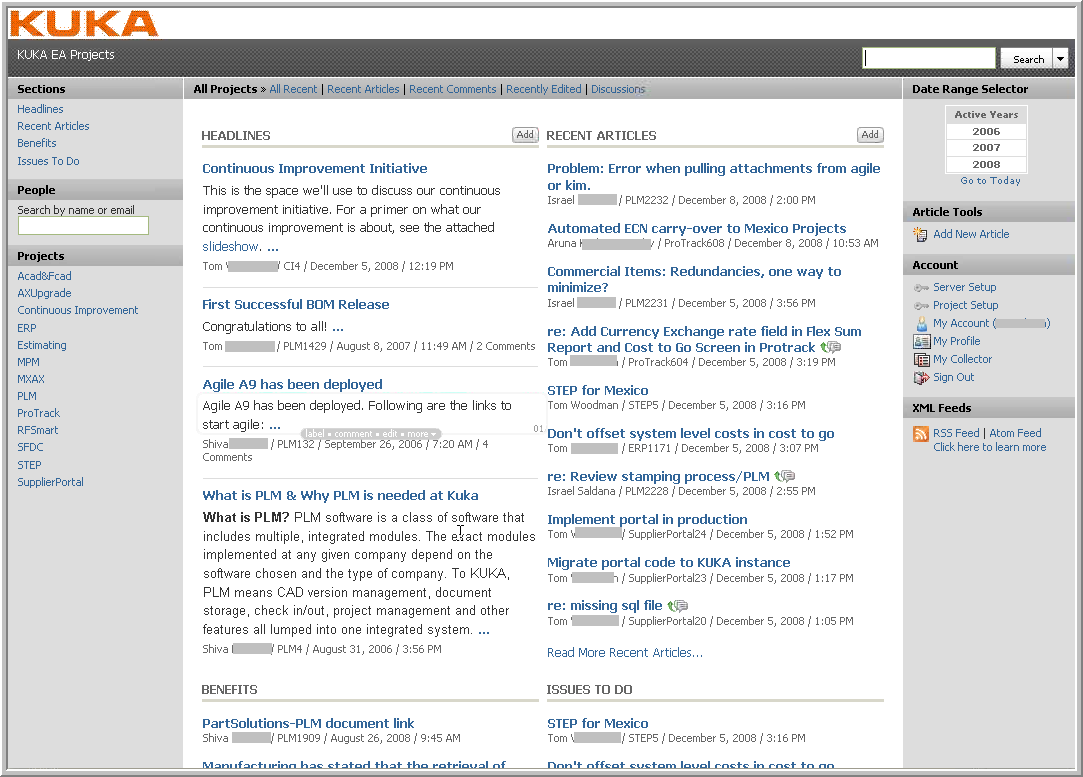 While reading updates on the Front Page and deeper pages is a user friendly and effective experience, many individuals first learn of updates via the e-mail digest which is published daily for all users who subscribe to it. The digest segments all new content by project, and even organizes discussion threads into a single integrated entry:
Identifying Issues, Raising Awareness
In cases such as the Product Lifecycle Management system roll-out, there were technical issues as well as organizational issues. In particular, they were switching over from a process that was largely paper based and involved several different, disconnected enterprise systems.
The focus of the PLM Project, therefore, became twofold:
1) Documenting and communicating the benefits of the new system
2) Identifying issues throughout the PLM system's own lifecycle
Below is an image of the PLM Project newspage, with emphasis on system benefits and a log of open issues.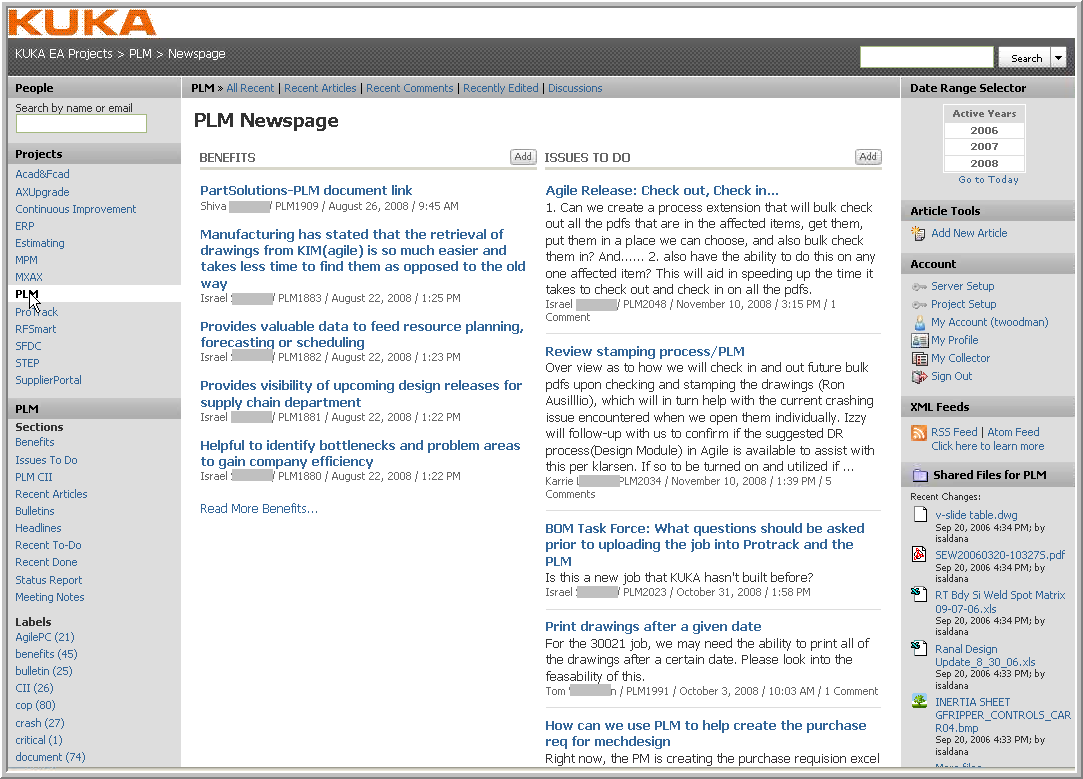 Anyone in the organization can monitor this page online or via a newsletter. Its also easy for the team to point any individual to the collection of issues or one in particular which may need some review.
Issue Review and Management
Having identified the issues and collaboratively edited to refine the scenarios described, the team can track and discuss the issues as they work to follow through and tackle them. In the meantime, stakeholders can monitor progress and chime in as necessary or helpful.
Here is a list of the issues as they may be observed in a review meeting. Right from this view, its possible to mark them done, add commentary or export via e-mail or PDF.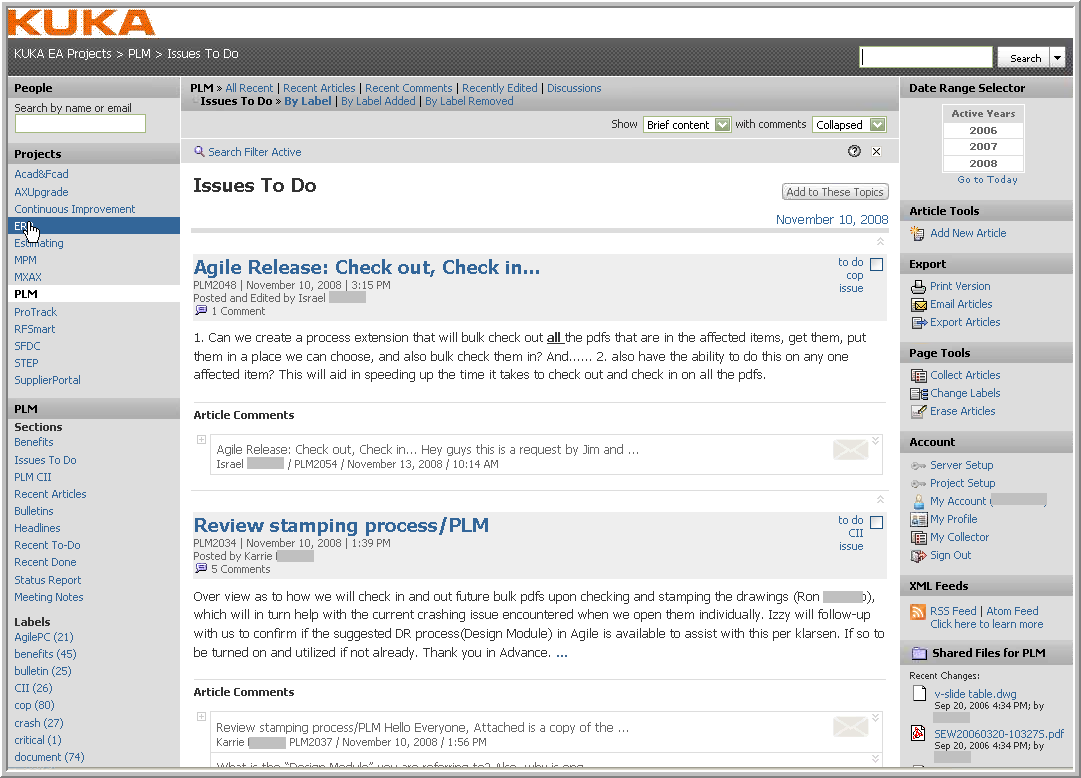 Issues are at the Heart of Forward Progress
You can see that the issues above are tagged to categories – like Cii (Continuous Improvement) – and assigned to individuals ("cop"). Being able to track continuous improvement is one of many benefits found by bringing issues to the forefront of the intranet environment. And there are additional "network effects" of using a TeamPage Wiki to manage issues:
1. Issues can be reviewed for compliance purposes.
2. The discussion enables rapid knowledge sharing and faster, smarter actions against the issue resolutions
3. Answers can be tagged as How To's, thus creating a permanent knowledge resource.
Here is a view of an issue describing a required change to a group parameter in the ERP project. It was marked done.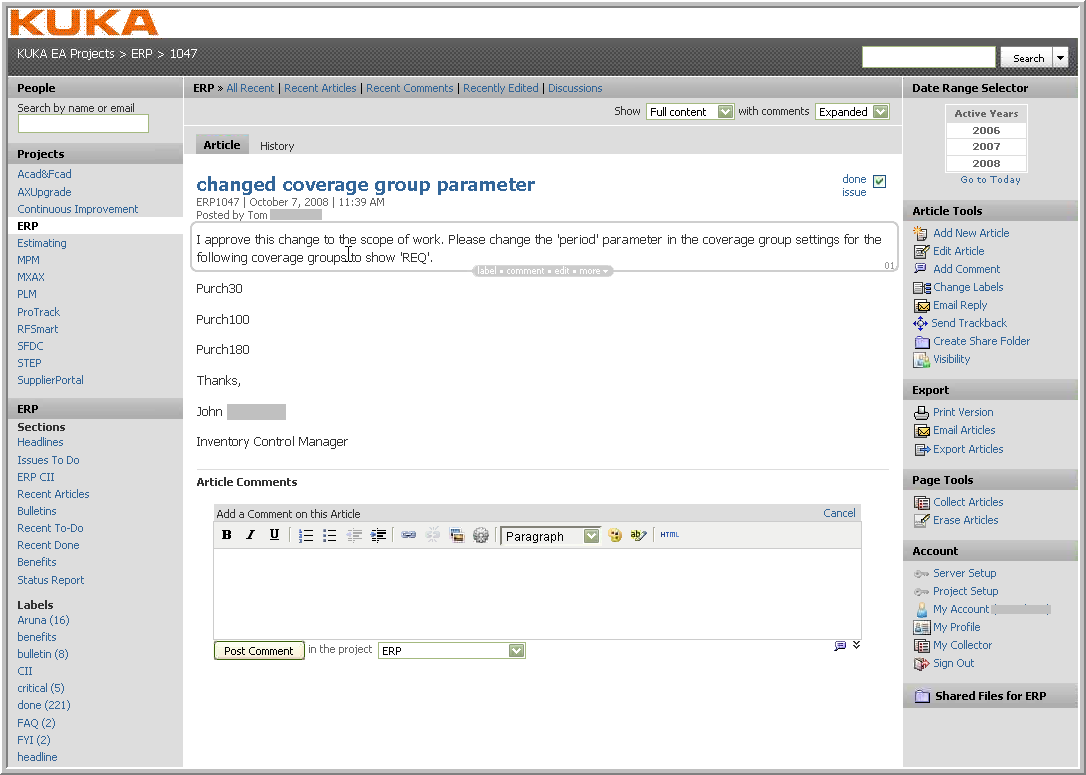 The History, shows typical Wiki edit history (if any) like any other wiki. It also includes more detail, including when tags were added and removed as well as by whom. Here you can see that the Issue was posted on October 7, 2008 at 11:39 AM. Ten seconds after it was posted as a To Do, it was subsequently marked Done by Tom.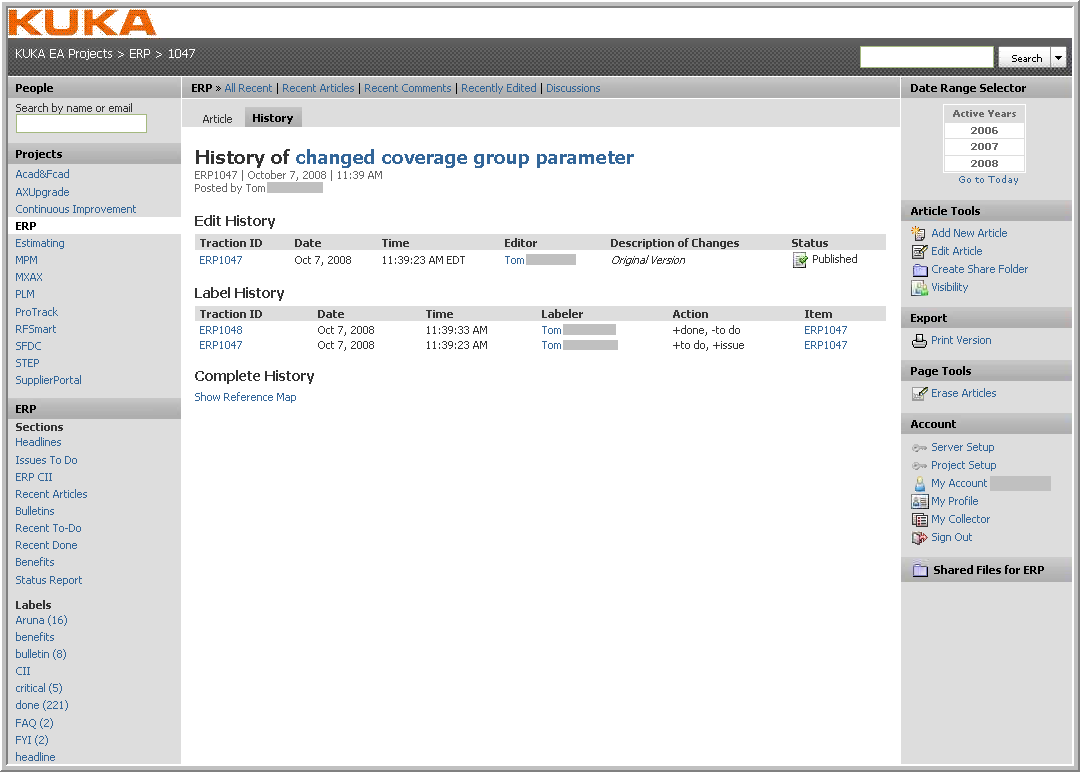 As work is being done on critical enterprise systems having a record of all systems changes and the substance or context behind the change is a big help both to support the review process and to help explain the context, course of actions and reasons behind any irregularities.
In the course of resolving issues, knowledge is shared. Here are two scenarios where sharing knowledge records it for later use, while accelerating the resolution of the current issue:
In this case, a How To label is applied to a commented answer which could be useful as a process point in other cases:
In this case, an Issue was assigned to Aruna for urgent resolution. Tom added further notes and suggestions, including suggestions on how to write a query.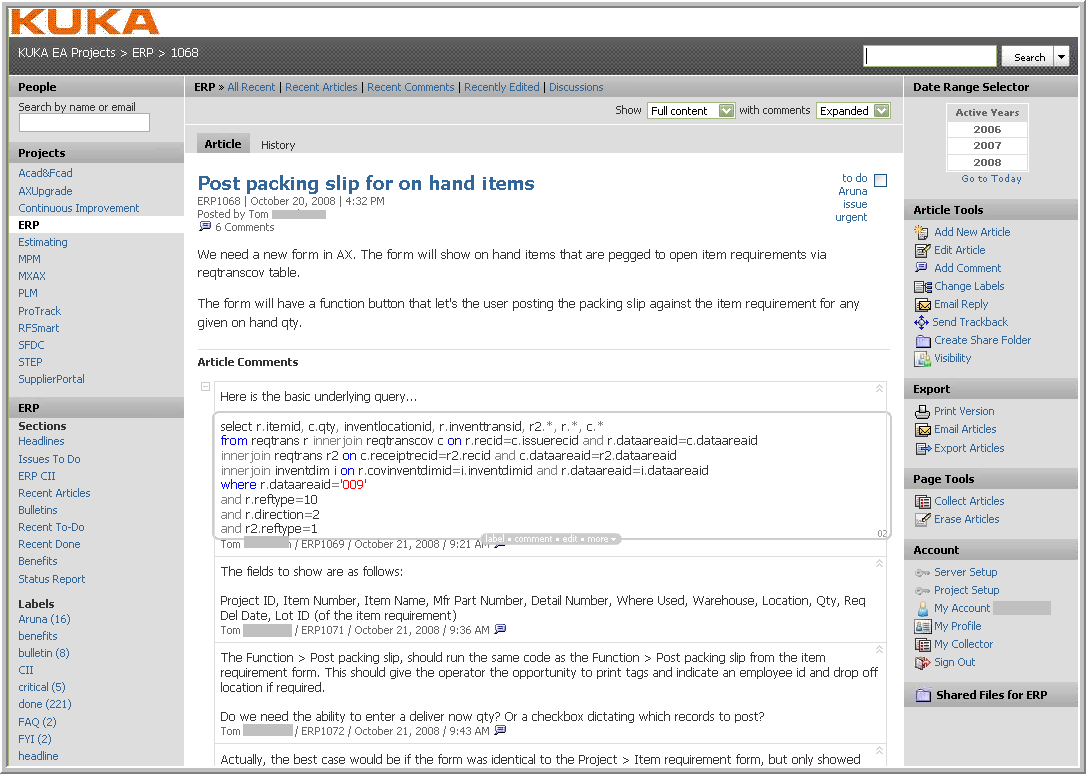 Tackling Issues, Every Day
The team has processed 765 issues in 13 project workspaces in the two years since Traction TeamPage was deployed. As of the time of this writing, 194 were marked To Do and are awaiting processing.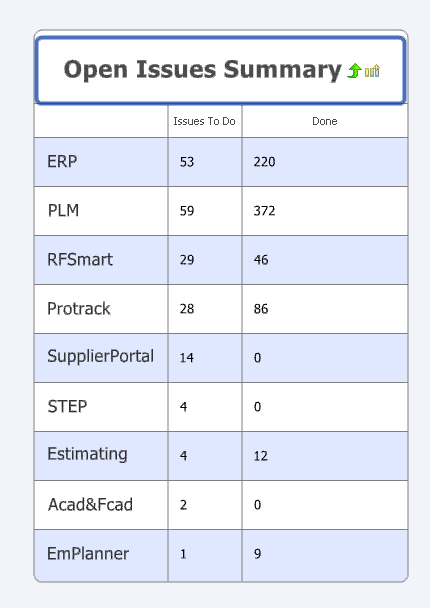 Using the structural supports such as sections, labels and history in TeamPage, it's been easy to keep a process on track while also benefiting from the free form collaboration that's required for knowledge managers to collaborate effectively.
Besides improving the process for handling issues, TeamPage continues to add value through creating a knowledge resource, providing audit support, leaving a contextual trail for how and when systems decisions were made, and helping to explain how disparate systems are connected architecturally.
The Future for TeamPage at KUKA
Coming from a base of a nuts and bolts intranet, KUKA is in a position to deploy TeamPage further as the substance of an intranet that is Enterprise 2.0 from end to end. In stages, TeamPage may take the role of the departmental intranet as well as the primary Wiki for managing playbook (Standard Operating Procedures), content, supporting organization wide continuous improvement, and a basis for encouraging the contribution of ideas and suggestions.
External References
A detailed case study on KUKA Systems titled A Solution for Managing (and Maximizing Change) (login required) is published at Intranets Today.
Tweet