National Health Service Orkney (NHS Orkney)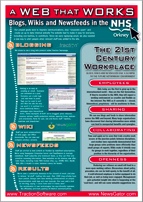 David Rendall of NHS Orkney (a regional health board of the UK's National Health Service) deployed Traction TeamPage and NewsGator Enterprise Server for a variety of use cases spanning the entire NHS Orkney staff. A year later, the use of the platform continues to gather momentum. NHS Orkney now has a single, central point of reference for internal communication and information as well as external news. Rendall says:
We've seen a substantial decrease in the amount of e-mail, and plan to remove 'all staff' mailing lists soon. In a matter of months since production deployment, well over 1,000 blog pages have been posted, and, in one small group over 170 tasks have been assigned and completed. A variety of groups from HR to Clinical Services and IT are working collaboratively on project documentation, work logs and user manuals. Our combination of technology from Traction Software and NewsGator Technologies significantly improved the efficiency and transparency of internal communications.
About NHS Orkney
The United Kingdom's National Health Service (NHS) was established in 1948 and is now the world's fourth largest employer. The World Health Organization recognizes NHS as one of the best health services in the world. The NHS Orkney health board in Scotland provides a comprehensive health service for the island communities with 600 staff.
Why Make a Change?
In 2005, an unfavorable report was delivered on the state of internal communications at NHS' Orkney division. At roughly the same time, a senior executive was furious at being unable to retrieve his e-mail while on the train. The problem? A 9MB e-mail, loaded with personal photos, was sent to all staff. Faced with a long download to his PDA, the executive abandoned the download and was cut-off from office communication and rendered unresponsive during a long ride.
These are typical problems faced by organizations which rely on a combination of paper, e-mail and well developed (but highly controlled) intranet portals to deliver internal communications.
The NHS Orkney IT department was asked to "sort it out." This was an opportunity for a traditionally conservative organization to take a new approach, towards a "Web that Works," driven by blogs, wikis and feeds.
Selecting a Platform
Understanding the content buried in e-mail communication traffic was important to realizing a comprehensive solution. The types of communications landing in e-mail boxes at NHS Orkney ranged from personal matters (selling extra concert tickets) to departmental spam (announcing a new employee) and important issues (a colleague needs immediate help meeting an operational demand) which must be handled in the moment. All cases, regardless of work process relevancy, are pertinent to an ideal solution and communications strategy that reduces noise and increases signal, be it relevant to personal or performance concerns.
Portal Style Solution?
One solution to these types of problems is to have an internal portal style website. NHS Orkney already had such a site, but it was rarely updated and difficult to navigate. Managing a traditional site requires considerable technical skill and effort.
A good webmaster is a rare combination of techie, editor and manager: even if NHS Orkney had the resources to recruit a full-time webmaster, recruiting the right person would have been very difficult. Besides the simple matter of managing a site, anticipating and servicing the evolving needs of every department and group is an insurmountable task for one webmaster, much less an army of them.
So, the available technical skills were stretched too thin, the task too large, and the website became hopelessly out of date.
Groupware or Blogware?
Having eliminated the webmaster centric portal approach, the next class for consideration were technologies allowing users to publish and manage the content. They covered the spectrum from lightweight blogware to enterprise groupware. Rendall writes on his blog:
"I messed about with various (free and not-free) options. Again, there was a certain basic set of features which were absent from most products because they didn't understand the large-orgnisation mindset

Account management integrated with internal network.
Scalable to fairly large numbers of areas of interest, while keeping a common navigation system.
Fine-grained delegation of rights.
Low level of sysadmin involvement.
End-users create the structure.

And that's what led us to use Traction TeamPage. Wordpress or whatever is great when you're doing a wee externally-accessible blog, but when we tried to use it on a grander scale it was just too difficult to manage. Microsoft Sharepoint is far too difficult for end-users to use, doesn't scale well and requires an awful lot of admin effort. Traction, like NGES, just intuits what's important for us."
Leaping Forward to an Enterprise 2.0 Platform
After looking at various alternatives, NHS Orkney decided to deploy Traction TeamPage to address communications problems. Traction TeamPage is a hybrid blog and wiki platform, built for enterprise groups.
A blog is a special kind of website. If policy and social norms allow it, users can post messages, documents, pictures, videos, comments, and other content on the blog. Doing so is as easy as sending an e-mail, thus reducing the technical barrier to posting and allowing for a free flow of information, and the ability to grow and change the system easily over time. From serious to silly, NHS Orkney users have posted all sorts of content:
lost & found notices
charity sponsorship requests
policies & procedures
press releases
opening hours
health protection notices
staff vacancies
training
stuff for sale
forms
While publishing items such as "stuff for sale" may seem counter-productive in the enterprise sense, the effect is just the opposite. Providing rather than prohibiting this channel for personal communication removes distractions from e-mail, gets people off of eBay, and supports more fluid interactions around the communication. It also creates a culture of community.
How is all this organized?
On a traditional website, there tend to be two mechanisms: search and navigation menus. Traction TeamPage has an excellent search engine, but it eschews typical menu structures in favor of social tagging.
Menus are difficult to maintain: they require managers to make decisions about what hierarchical structure the menus should have, then take decisions about how to categorize incoming information. If something doesn't fit the existing hierarchy, it tends to get forced into an inappropriate category.
Tags on the other hand are simple text labels which, in Traction, are indexed across all blog/wiki workspaces, and over time. A blog or wiki page can have as many tags as you like, and tags can be created by any user when they need them. The Traction platform supports creation of tags in each workspace, and the ability to apply those tags to content in that project workspace, or across to content in any other project. This provides for social tagging, but with permission filters.
You can use tags (as well as author names and project names) to filter when searching the blog, combining multiple tags, from one or more workspaces, to drill down to what you need, without needing to know the hierarchical path in advance. As more and more information is available to us digitally, hierarchical menus become increasingly unwieldy: tags are a proven way to address this information overload, and do so at massive scale.
All blog users collaborate on maintaining the tags. It is also possible to collaborate on creating content and display any slice of the content, in any order, in sections. It is in this sense that Traction is also a wiki. Wiki pages and file attachments can be developed over time by teams. All previous versions of pages or documents are available to view and compare. NHS Orkney staff use the wiki features of Traction to create project documentation and user manuals. Wikis have great potential for non-hierarchical, multi-disciplinary co-operation.
Traction In Action
The NHS Orkney Traction Front Page rolls up activity in 4 sections: Clinical, Organization, Classified and Personals, and Recent News and Information (a catch all). The source content may have been posted to any one of 11 projects visible to all employees, or from additional projects that require permission. The projects range from Clinical Services to HR, IT and Personals.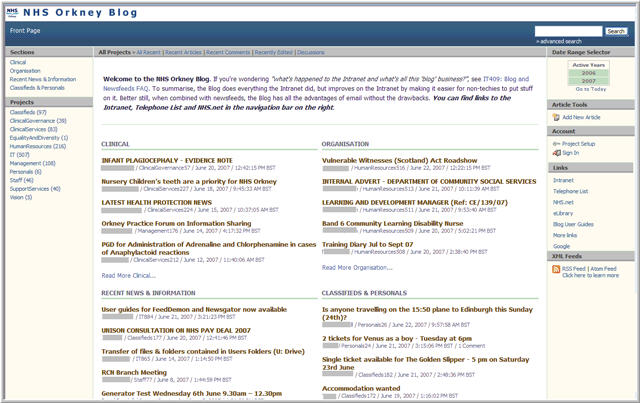 The IT Newspage is specific to the IT project space. Here you can see important Notices such as new password reset policy information and new information about a fix to a Blackberry RIM issue, together with a list of all Recent Articles and Comments. You can also see the labels used in the space, with an indication of frequency for each.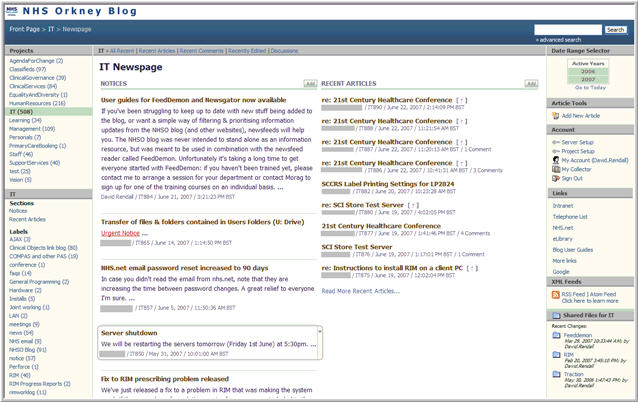 In a dedicated project, the IT Job Tracker is a work log for assigning and completing task items, and for status reporting. The items tagged To Do are also tagged to one ore more individuals. When items are marked Done, they are listed in the Recent Done section. In the 5 months starting January 2007, 171 pages were marked Done, a rate of 1 or 2 per day. This provides for a searchable knowledge base of all actions ever assigned, including their assignment and completion dates. As needed, it can be viewed by assignee, so, as a team, it is possible to assess the nature of each individual's load and their work activity history.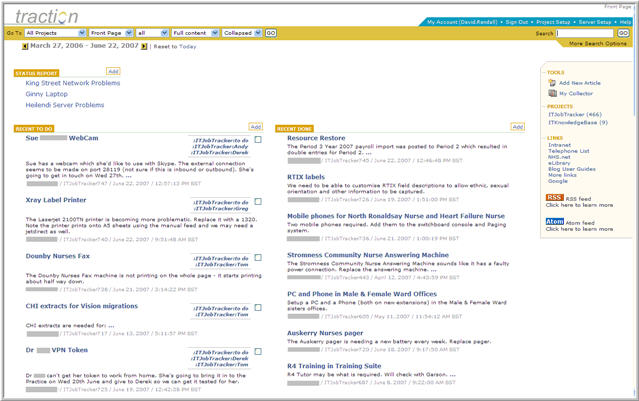 Untangling E-Mail, and the Web, with NewsGator and RSS
There are two critical features which are missing from most websites:
(1) How do you know what's new?
(2) How do you know what have or haven't read?
Many of the employees are now involved in posting to and consuming information on Traction TeamPage, as well as monitoring an array of external sites. But they don't have time to needle through sites to figure out what's new, or to invent a way to remember what pages they need to read.
Feeds fill the gaps. Feed aggregators monitor content from a variety of sites, alerting staff when new items appear. The aggregator keeps track of what an individual read, and it allows them to flag pages for follow-up.
Location independence is of great importance, especially in a health care setting where individuals move swiftly between departments, and may not even have their own workstation. NewsGator makes it possible for users to read feeds from anywhere. Further, it's possible to use a variety of clients - web, desktop (PC or Mac), PDA or mobile phone – while still synchronizing unread tracking updates to unread tracking on the user's account at the central server.
NHS Orkney staff use NewsGator to subscribe to internal feeds from Traction. Traction feeds for the most important tags are provided by default, and users can create their own feed based on any search. In this way, incoming information gets filtered and differentiated before they see it, making at-a-glance prioritization possible.
In the NewsGator Enterprise Server interface, feeds from Traction are parsed in a manner that will satisfy the interest area and urgency requirements of a wide variety of readers. The Clinical Services > Red Alert feed parses out pages in Traction which are tagged Red Alert. The Red Alerts may be monitored carefully by all employees, whereas the Personals or Catering channels may be perused more casually.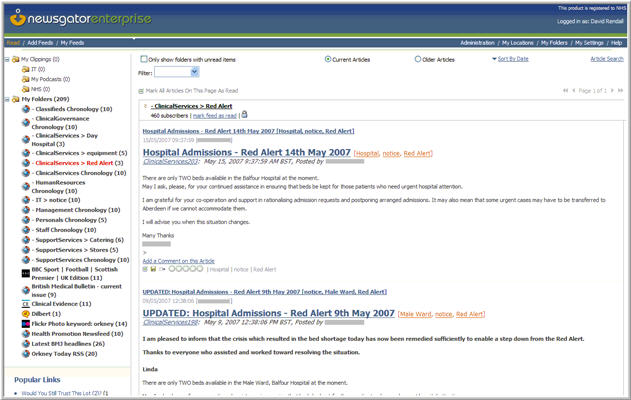 NewsGator isn't just for internal feeds. Many websites make feeds available, including a wide variety related to NHS interests. Some examples include SHOW, NICE, NeLM, BMJ, BDJ, E-Health Insider, and the National Library for Health. Feed monitoring makes it easier to keep up to date without the time-consuming effort of regular site visits.
Conclusion
NHS Orkney now has a single, central point of reference for internal communication and information as well as external news. All this content can be displayed and securely delivered in a manner that is flexible enough to meet a spectrum of user needs, while also being location (a train or an ER) and hardware (from a Blackberry browser to a twenty-four inch monitor) appropriate.
Have internal communications improved? Rendall comments:
Yes, definitely. The volume of "corporate spam" has dropped substantially, to the point where we are on the cusp of turning off "all-staff" and other large group mailing lists. The range of information on the blog continues to expand. More staff are starting to use it to work collaboratively.

The hope at NHS Orkney is that, as blog & wiki practices become more common, the technology will encourage a change towards more openness and collaboration, a change expanding communication circles from "need to know" to "can know," a change we believe would benefit the NHS.
Read more in David Rendall's A Web That Works blog, his commentary on Nudging Users Towards Consistency, and a co-authored Intranet Journal Story titled Traction, Newsgator Weave a Web that Works | NHS Orkney (see 30 July 2007 | IntranetJournal - Traction, Newsgator Weave a Web that Works | NHS Orkney and 30 July 2007 | IntranetJournal - Traction, Newsgator Weave a Web that Works | NHS OrkneyBlog461 ).30 July 2007 | IntranetJournal - Traction, Newsgator Weave a Web that Works | NHS Orkney
NHS Orkney Customer Story Part II
A year after we wrote this Customer Story (which was two years after their original deployment), NHS Orkney gains more from Traction after deploying TeamPage 4.0. See NHS integrates Intranet 1.0 with Enterprise 2.0 to get Social with TeamPage 4.0 for details.
Tweet