TUG 2009 Providence | Keynotes by Carmen Medina, Chris Nuzum and Stewart Mader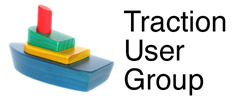 Traction Software's fourth annual Traction User Group Meeting - TUG 2009 13-16 October 2009 in Providence RI - will feature an opening Keynote by Carmen Medina, closing Keynote by Stewart Mader and customer talks by Alcoa, Wyeth Pharmaceuticals, a top tier management consulting firm, and others. For live updates see What's being said about TUG 2009 on Twitter?. Tune in for Carmen Medina's 9:00AM EDT opening keynote followed by a Traction TeamPage Product Roadmap session and other highlights listed below. [ Update: See links below for TUG 2009 videos and slides ]
Wed Oct 14 2009 [ all times are US Eastern Daylight Time ]
9:00-10:30 AM: Carmen Medina - Director, Center for the Study of Intelligence, CIA - will deliver a thought provoking TUG 2009 opening keynote on Enterprise 2.0 and the Context of Work. Video | slides | transcript
10:45-12:20PM: Chris Nuzum - CTO and co-founder of Traction Software - will lead a Traction Software Roadmap session with product and partner announcements, introduction of Traction Software's new Google Web Toolkit (GWT) based Proteus user interface, and a roadmap for the year ahead.
1:30-4:30PM: Customer talks will include results of Enterprise 2.0 initiatives by Alcoa, Wyeth Pharmaceuticals, a top tier management consulting firm, and a well-known US manufacturer.
4:30-5:00PM: Masayuki Kojima of Applied Knowledge Co, Ltd (Yokohama, Japan) will discuss migration from Lotus Notes to TeamPage and use of software tools to capture web content and publish to TeamPage.
5:00-6:00PM: Author and Future Changes founder Stewart Mader will deliver a closing keynote Designing for Collaboration.
TUG 2009 will offer an afternoon of basic to power user Training preceding the Conference, and two days optional days of advanced training with SDL/SDK and Advanced Platform Topic tracks, including:
Attivio Advanced Search for Traction TeamPage - Daryl Gies, Attivio Manager of Professional Services slides
Introducing Proteus - Michael Angeles, Traction Software Director of User Experience
Google Web Toolkit (GWT) and Proteus - Andy Keller, Traction Software Director of Engineering
Customizing Proteus - Michael Angeles, Traction Software Director of User Experience
TUG welcomes people who are using or interested in Traction TeamPage - including the free Traction TeamPage software - analysts and industry experts who are interested in learning about Enterprise 2.0 and the future of knowledge management.
See the Traction Software Slideshare page for public TUG 2009 slides. Become a TUG member for access to all TUG slides, talks, training and code examples where authors have limited their distribution to other TUG members.

New! See the Traction Software Vimeo page for TUG videos (moved from blip.tv) and more. Resister (free) to join TUG and join the conversation!
Tweet