Traction TeamPage 5.0: Social Software for Work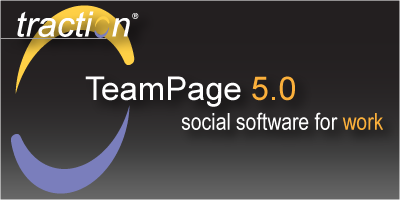 Traction® TeamPage Release 5.0's new generation interface technology is fast, simple, and looks great. TeamPage 5.0 leverages this technology to deliver personal profile pages, Twitter style personal status, a flexible follow model with faceted navigation, a top down Feed view of activity and more as a natural part of Traction's award winning Enterprise 2.0 collaboration platform. TeamPage 5.0 puts social software to work for activities that matter most for your business including new product development, sales, life cycle product support, communication with clients and sales partners, collaboration with customers and key suppliers, tracking business issues, marketing and competitive intelligence.
Traction TeamPage Release 5.0 Highlights
Proteus User Interface Technology - Fast, clean, beautiful. Pure Web technology looks and acts like a dedicated client using Google Web Toolkit (GWT).
Extensible Profiles – Shows each person's profile profile, status stream, actions.
Personal status– Auto updating personal status including a Twitter-style follow model. Click any author name in blog, wiki, comment or status content to see that person's brief contact information, current status update and link to that person's profile.
Status in context – Auto updating conversations in a space with a purpose e.g. Competitive Intel, Sales, Support which can be wide open or protected
Feed view – A compact summary of new content, edit, tag actions, follow actions and more viewable by person, project space, or rolled up to summarize an activity stream crossing all spaces you have permission to see. Great for situational awareness,
Expanding Feed – Click the expand icon next to any Feed item and it smoothly expands to reveal the content or action it summarizes.
TeamPage Microsoft Outlook Social Connector – Shows TeamPage Personal profiles and status in Microsoft Outlook to provide social context for email and Microsoft Office applications.
Extends the Traction Platform - Traction TeamPage is built as an extensible platform with a core Java API and Java source code and documentation for the Traction Software Skin Definition Language (SDL) layer that's freely available to customers and developers. Release 5.0 extends the platform, adding Proteus, GWT and social networking support.
New Generation Interface Technology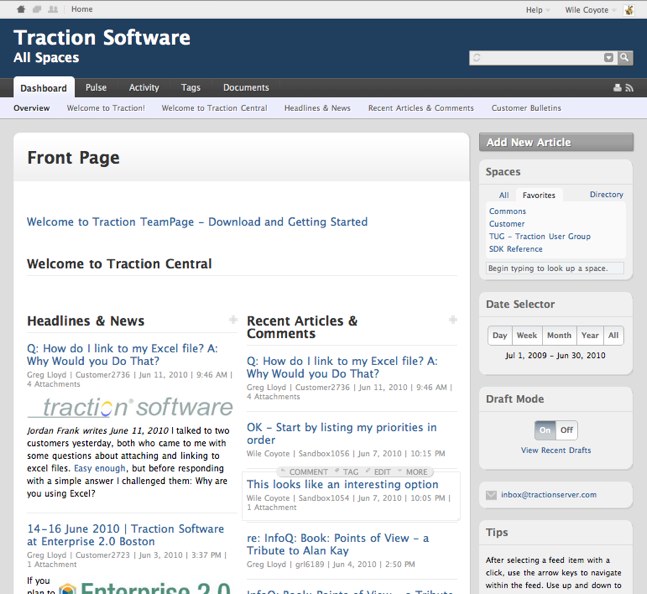 Traction's new Proteus skin uses Google Web Toolkit (GWT) technology to deliver a fast and great looking interface that looks and feels more like a modern desktop client than a Web application. GWT allows Proteus to run as a pure Web application using most modern browsers including Internet Explorer 7 or greater, Firefox, Safari, Chrome as well as modern mobile browsers.
This means: No special client libraries to pay for, license, download, install and maintain on every desktop. It also means that you can use Traction TeamPage to communicate and collaborate with people on the public Web in TeamPage spaces open to all or limited to known client, customer, partner or supplier members. Your IT department may lock down the configuration of all company owned computers (and pay client licenses for each one) but your IT department does not have the ability to lock down the computer configuration for everyone on the Web - where customers, suppliers and other external stakeholders live. A pure Web browser interface with no special client software or licenses to manage is a better solution.
Social Software for Work


When people talk about "Facebook or Twitter for the Enterprise" they generally want a combination of capabilities that includes: 1) A personal page for each employee or other stakeholder including basic address card and contact information along with professional and personal information that person is able to edit and willing to share; 2) An easy way for each person to write personal updates that can be seen by others in the company; 3) A way to follow personal updates from everyone in the company (for small companies), or follow selected individuals; 4) A way each person to collect organize, edit and post notes, pictures, or links to internal and external resources that are helpful or interesting. TeamPage 5.0 gives you all of that, along with an automatically generated Feed view which summarizes what that person has written, commented on, edited, tagged, or published across any of the spaces that the person reading the Profile has permission to see.
Basic contact information including email address, telephone number and mailing address can either be automatically pulled from a corporate LDAP or Active Directory server, or maintained on the Traction TeamPage server, e.g. for customers or consultants who don't have corporate LDAP or AD accounts. Profile fields are extensible and searchable like any other TeamPage content, e.g. to find people who speak a particular language.
But Traction TeamPage 5.0's personal profile and personal update features aren't siloed social software systems - they're seamlessly integrated into Traction TeamPage's E2.0 collaboration framework.

Traction's home page shows an automatically generated roll-up of content from all the spaces you have permission to read, organized into newspaper like sections that are simple to configure to gather and present information based on tag, content, or explicit collection. The author name near the title of every TeamPage article, page, comment, status or feed action is a live link that you can click to show basic contact information (if that person has authorized sharing) along with a brief bio, last status update, follower summary, and a button that links to the author's profile. If you click on your own name, the second button let you edit your profile. If you click on someone else's name you can follow or unfollow that person with one click.
This means: Every author, editor, or tagger name is a live link to the profile information for that individual along with that person's status and collaborative activity spanning the set of spaces you have permission to read.That is, Wile's posts to the Board of Directors space would be shown in his activity trail only for those folk who have permission to read the Board of Directors space or a Board of Director's article that has been released to a wider readership by cross-tagging it to a more public space.

No matter what page you're looking at, you can also click your name or avatar in the upper right corner to pop to link to your profile, edit your account settings (including preferences), log off, or post a quick status update. The update you post in the mini-status window is automatically pushed as an update to all open TeamPage status windows.

By default your status update is posted to a space shared with other employees that acts like the Twitter commons. Anyone looking at the status update tab in their browser will see your update automatically appear under the Update button, with a subtle highlight that fades in seconds indicating that status has auto-refreshed. You can also post a new status update directly in the status panel by typing in the text box and pressing Update. If you don't want to keep the full status panel open, you can click the stacked windows icon in the upper right corner to launch a mini status window with its own text box, Update button and auto update content. You can park the mini status your desktop and glace at as you work on other things.
Unlike Twitter and most social software, by default you can edit and add or remove tags on your own status entries as well as erase your own entries. Traction TeamPage automatically maintains a full audit trail of edits and tag actions for status entries just as it does for Wiki pages, blog entries and comments. A person with setup permission can change the access permission in the "commons" space to tighten (no one can edit their status entries) or loosen (anyone or a selected group of individuals can edit anyone's status entries) business rules for the space.
TeamPage 5.0 provides a status tab for each space devoted to a particular business purpose (e.g. real-time status in a customer service space) as well as a server level commons for status updates shared by everyone and status that's automatically rolled up from all spaces you have permission to read.
This means: It's easy to configure status capabilities to support a wide variety of shared or private communication patterns. The ability to edit and retag status updates make it simple to correct updates containing incomplete or incorrect information. Traction's full audit trail of edits and tag actions and edit comparison view allow erroneous edits or actions to be recognized and corrected while following compliance rules.
Flexible notification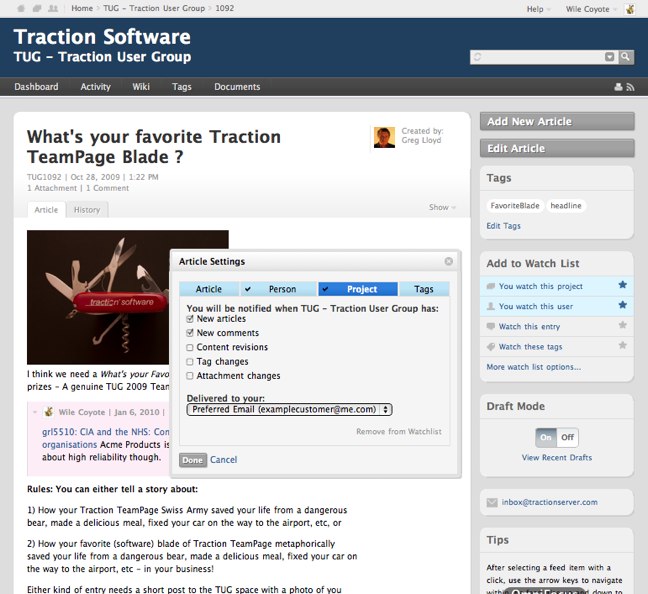 In addition to following individual's status updates and collaborative actions, you can also receive automaticac notifications by email or Jabber message whenever: 1) a specific article is edited, commented on or tagged; 2) a selected author creates, tags or edits content; 3) content is created, tagged or edited within a selected space; 4) content with a selected tag is created, commented on, edited or retagged.
For example, you can select an action to notify you by email any time the tag Emergency is added or removed, or content flagged with the Emergency tag is edited or commented on. The email message show the tag, content, and action that triggered the notification, along with the date/time and person who took the action. The email message is structured so that by adding a note at the beginning of the notification email and clicking reply, your note will automatically be added as a comment on the referenced item (if permissions allow you to post comments).
This means: Email is still the most common form of electronic communication used in business, and it's still a great channel for point to point notification that everyone knows how to use. Traction TeamPage's email notification and reply capabilities were designed in close cooperation with a major international consulting firm and TeamPage customer to make Blackberry road warriors first class citizen's in an E2.0 world.
Integrated search, content navigation, tagging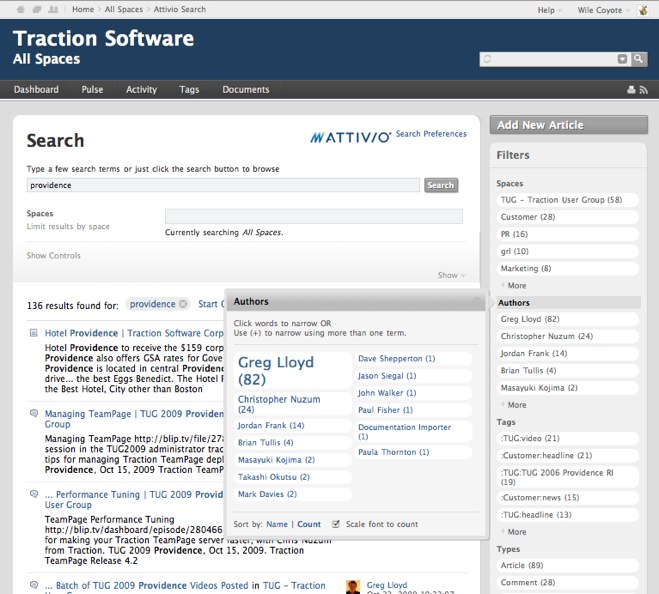 Traction's Attivio search option indexes over 370 document formats as well as Traction TeamPage content and metadata, delivering search results that only disclose content and metadata hits that the person making the search request is allowed to see. In the example above Greg Lloyd is the TeamPage author of 32 articles containing the word "Providence" in spaces and articles that Wile is allowed to read. Clicking "Greg Lloyd" in the Author cloud will drill down to restrict search results to just those articles, file attachments or files in TeamPage web folders containing "Providence" and authored by Greg Lloyd and recalculate all content navigator clouds based on the restricted content. With TeamPage 5.0 you can drill down based on status and other entry types as well as content navigators based on metadata, linguistic and sentiment analysis.
This means: Status updates and Profiles are first-class TeamPage entries that can be found using integrated search and content navigation in ranked rank or time order along with the hypertext entries that provide TeamPages integrated Wiki, blog, comment and social tagging capabilities. Permission to create, read, edit and erase Status, and Profiles are controlled by business rules that are easy to configure for individual, group or role based permissions derived from LDAP or Active Directory data and queries.
Traction Outlook Social Connector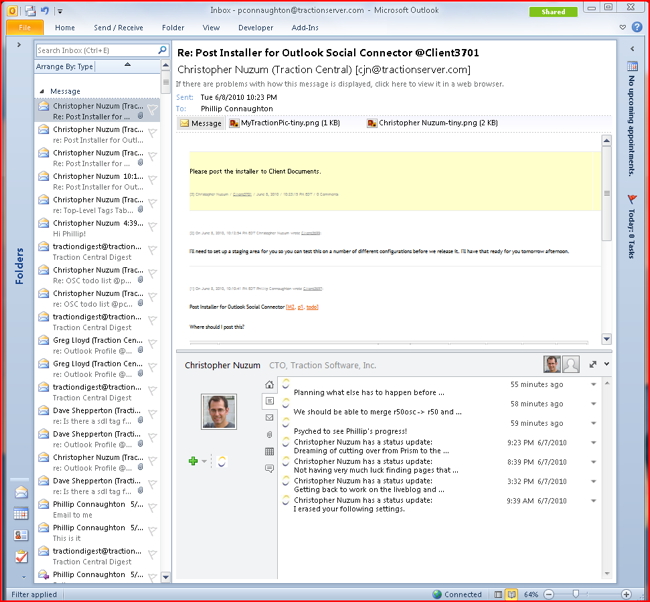 Microsoft Outlook is one of the most widely used email clients in the world. The new Traction Outlook Social Connector is an accessory developed by Traction Software that makes it simple to see personal profile information and personal status summaries from one or more TeamPage servers. You can browse or search the list of contacts Outlook gets from TeamPage servers and other Outlook Social Connector sources. Outlook will also let you click email address of an incoming message and directly link to the Outlook Social profile with a matching email address.
This means: Profile data and status messages stored on one or more TeamPage servers can be used to provide context about a contact with an account on any of the TeamPage servers. This is particularly useful when dealing with customers, suppliers or other external parties who don't have an Active Directory or LDAP account on your own corporate network that could provide basic profile information. TeamPage status updates become more visible and useful to people who live in their Outlook mailbox.
Register for a guest account on Traction Software's corporate TeamPage Server

Join the conversation, see Traction TeamPage 5.0 in action, and download a free copy
More Information
For more information on Traction TeamPage's award winning baseline capabilities please contact us, or see:
Connected Work - Collaboration, Action Tracking, Deep Search
Traction TeamPage Puts Hypertext to Work
TeamPage - the One System to Rule It All
Traction Software Products
Traction TeamPage 5.0 Slideshow
Tweet