Welcome to Traction TeamPage 5.0!
June 15, 2010
·
Blog1318
· Posted by Greg Lloyd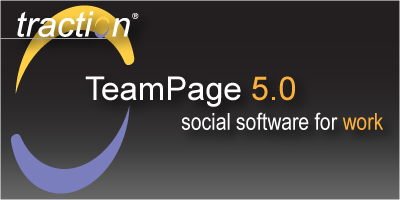 On Tuesday June 15, 2010 we'll introduce Traction TeamPage Release 5.0 to the world at the Enterprise 2.0 Conference in Boston. TeamPage Release 5.0's new generation Proteus interface technology is fast, simple, and looks great. TeamPage 5.0 leverages this technology to add extensible personal profile pages, Twitter style personal status, group live blog technology, slick and simple Feed summary and more as a natural part of Traction's award winning Enterprise 2.0 platform.
I believe Proteus lives up to the TUG 2009 Proteus mantra: Fast, Simple, Beautiful and hope you agree. I'd like to thank all of the members of the Traction Software Team for imagining, designing and bringing Proteus to life - particularly Andy Keller, Chris Nuzum, Dave Shepperton and Michael Angeles. I'd also like to thank the Traction TeamPage customers who worked closely with us in the conceptual design, mockup, wireframe and preview stages of Proteus, social networking, and project management extensions.
Please see Traction Traction TeamPage 5.0: Social Software for Work for a brief white paper on TeamPage 5.0 including a tour of these slides:
A release candidate for Traction TeamPage 5.0 is available today for download and installation by customers - including users of the free five user TeamPage configuration.
TeamPage 5.0 is also running on Traction Software's corporate TeamPage server which provides free access (registration required). Register today to join the conversation and download a free copy of Traction TeamPage 5.0.
I hope you all enjoy using TeamPage 5.0 as much as everyone at Traction Software already does. Tell your friends!
Tweet