TUG 2010 Newport | Thank you!
October 15, 2010
·
Blog1542
· Posted by Greg Lloyd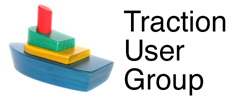 TUG 2010 Newport just wrapped up after four busy and enjoyable days. It's hard to express how grateful I am to the customers, partners, friends - and the Traction Software team - who made this such an enjoyable event. First I'd like to thank keynote speakers Jim McGee, Chris Nuzum, Jon Udell as well as customers, friends and partners whose thoughtful talks and enthusiasm made Wednesday's sessions so rewarding.
Jon Udell cheerfully and skillfully moderated Thursday morning's Observable Workshop in an unconference spirit when I asked for the benefit of his advice and experience with no advance notice - thank you Jon!
Thanks to Jordan Frank, Kellen Roach and everyone on Traction Software's exceptional team for making every training, product and developer session sing, and for their consistent dedication to make every customer happy and successful. Special thanks to Chris Nuzum, Andy Keller, Dave Shepperton, and Roger Fujii for the leadership, hard work, dedication and talent that brought TeamPage 5.0 to customers earlier this year, and for the awesome new task and project management capabilities they demonstrated at TUG which we'll announce at E2.0 Santa Clara this November.
For more, see
Tweet