11-12 September 2007 | Traction User Group Meeting
September 21, 2007
·
Blog480
· Posted by Jordan Frank

Our second annual Traction User Group (TUG) meeting was held last week in Newport, RI. The two day event featured twenty-six speakers including:
♦ A keynote Good-bye Files, Hello Hypertext! The Implications of Hypertext and Compound/Interactive Models on Collaboration and Content Management by Peter O'Kelly of the Burton Group. See also Peter's Reality Check blog.
♦ An viewpoint on collaboration topics by Phil Grove, CSC's Chief Collaboration Architect.
♦ A Traction Software review by Chris Nuzum, Andy Keller, Jordan Frank, and Jason Siegal covering the last 12 months of wiki, notification and search features, as well as a sneak peak at what's to come in our next release.
♦ Comprehensive and impressive Enterprise 2.0 case studies. User stories and case studies were shared from leading national and international organizations including management consulting, financial, pharmaceutical, and delicatessen food companies, as well as one of the largest US government system integrators and two DOJ affiliated law enforcement organizations.
♦ Partner presentations including Applied Knowledge Company Japan's overview of three Japanese customer use cases, a FAST Search presentation on entity extraction, document vectors and linguistics, and QL2 Software's demonstration of new easy to use GUIs for initiating automated web content monitoring, capture and publication of significant content into Traction TeamPage for analysis and dissemination.
♦ Traction Software Developer Kit (SDK) and Skin Definition Language (SDL) training, discussion and examples lead by Traction's Andy Keller and Dave Shepperton.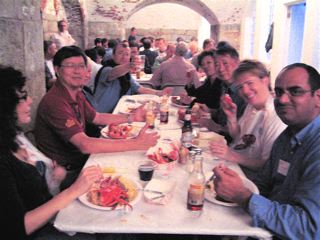 One TUG highlight was the clambake, held this year at Newport's Historic Fort Adams. Thanks again to a customer base to whom we are dedicated, and grateful for their support, feedback and ideas. Thanks also goes to long time mentor and advisor Andy van Dam (shown here, raising his glass in a toast), honored guest YS Wu, other friends and investors who joined us for the event.
For TUG 2007 photo's see:
Tweet