Making Wikis Work in Business - Leading Users to the Water
October 17, 2007
·
Blog520
· Posted by jfrank
Rod Boothby's post on Managing Wikis in Business draws out the main points on a post and MBA research by the same name written by Penny Edwards.
Boothby's conclusion is "the biggest take-away I have comes from the last point. In a work environment, new technology is never adopted over night. It takes time to move people over. When introducing something as radically new as Enterprise 2.0, you have to be patient… at least during the roll-out phase."
I generally agree. In cases like ShoreBank, where the team and management agreed on a process for using and the wiki site was organized well to support their goals, overnight adoption can succeed.
However, in most scenarios, its necessary to lead users to the water and slowly transition people and their communication and collaboration processes to the wiki. The question is "how?"
The last two points Boothby pointed out from the research stress the importance
to "allow people time to develop their skills with the wiki and gradually move them away from use of inefficient tools by constantly and subtly promoting its use"
and to "Recognise that later adopters may need greater support helping them understand how to use the wiki and work more collaboratively."
These points can be addressed in part by socialization and leading by way of example, but interface elements play an equally powerful role. One popular method in Traction TeamPage is to use Sections on the home page (newspages) of wiki projects.
The screen shot below is a demo wiki site I created for a customer who makes specialty metals. The left column shows the tag cloud for the page while the middle section includes sections that fill dynamically based on the content in the wiki project: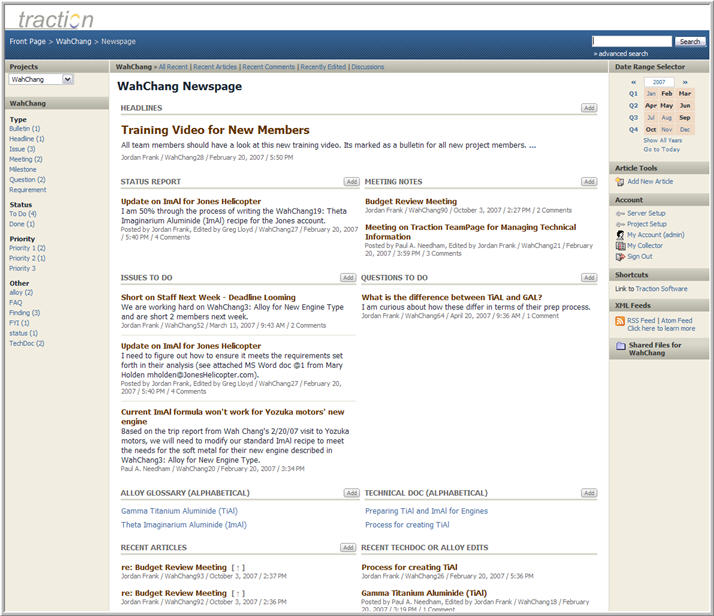 The sections play two roles simultaneously.
First, they bring important time ordered (Status Reports, Meeting Notes, Issues and Questions) and wiki type content (Alloy Glossary and Tech Doc) to the foreground.

Second, the Add buttons aim to engage indiividuals in the process, leading them to the water.
Individuals are often shy to start using a wiki because they don't know the basic skills (which are as simple as Post, Comment, Link and Label). But even with the basic skills, they still may not know understand the use case for a given wiki project space.
Encouragement from team members coupled with subtle hints from the interface work together to solve the adoption, cultural and process transition issues faced by organizations seeking Enterprise 2.0 success.
Tweet