25 February 2009 | New Metrics & Ratings Plug-Ins For Traction TeamPage Expose Social Interactions, Demonstrate Platform Extensibility

TeamPage 4.1 Extends "Live Blog" Technology to Document Sharing, Enhances Content Through Ratings and Offers Collaborative Insight with Deep Metrics
Providence, RI—February 25, 2009 — Traction® Software, the leading developer of Enterprise 2.0 social software, today announced the release of Traction TeamPage 4.1 and new plug-ins for content ratings and user activity metrics. TeamPage 4.1 breaks new ground by making it easy to analyze user activity and rate TeamPage blog posts, comments or wiki pages to highlight and act on important information. These capabilities support "wiki gardeners" and help identify best practices or patterns that can build a stronger community and improve the content it creates.
"Ever since we made it possible for groups to communicate and collaborate by easily posting, editing and tagging pages, we've sought new ways to improve, enrich and leverage information in the course of doing every day work," said Greg Lloyd, president and CEO of Traction Software. "The new ratings and metrics plug-ins satisfy this goal by providing just the right mix of explicit ratings tools and implicit metrics tools to get the job done. They help the community gather quick and easy insight into what's important now, and over all time."
Traction TeamPage 4.1 Extends "Live Blog" Technology to Document Sharing
TeamPage 4.1 introduces a new document management interface so users can get a "live" view of what's going on in a Document Share Folder, signaling in real-time as documents are added, removed, and checked-in or out. This new interface incorporates the same rapid AJAX technology used in Traction Software's Live Blog micro-messaging plug-in, supporting twitter style micro-messaging that feels as interactive as live instant messaging.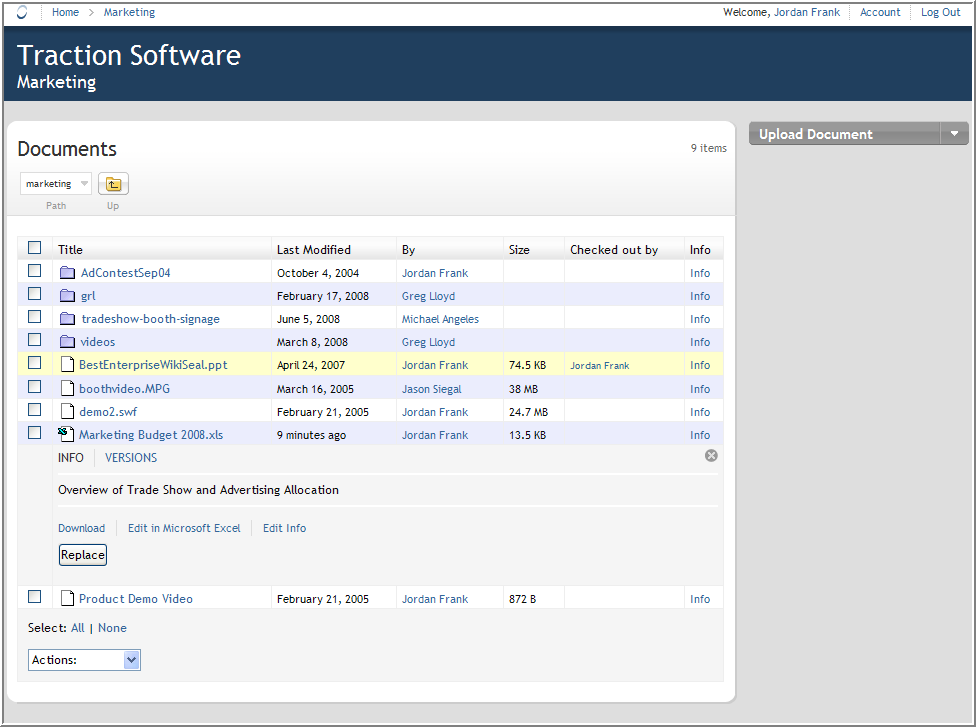 New Content Rating Plug-in: 5-Star and Thumbs Up Rating Scales
With the new Ratings plug-in, workspace owners can enable one of two different rating methods. The 5-Star method enables you to highlight the average rating of ideas and product requirements. The "Thumbs up" (or or "vote to promote") method highlights the number of people who found a particular item to be interesting or useful.
Section panels on the Traction Front Page and in each workspace offer each person a permission filtered dashboard view of top rated content over the last 24 hours, 7 days or all time.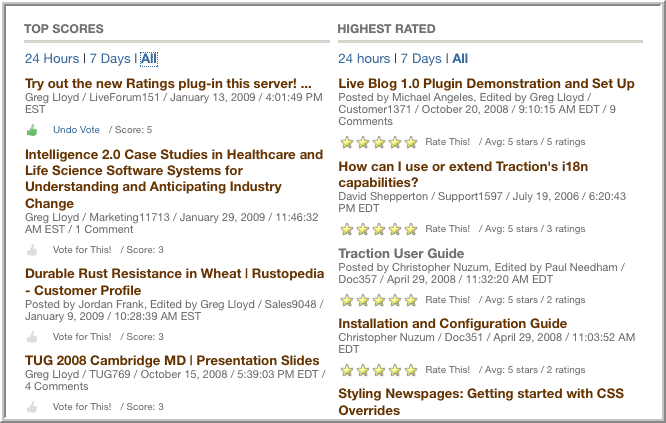 New Metrics Plug-In Tracks and Reports On User Activity, Exposes Best Practice
TeamPage's new Metrics plug-in generates reports to allow members and managers to track and assess Traction workspace activity.
Users can now see what workspaces and which specific articles are read the most, and get their own view of top articles and comments by day, by week or over all time. For each article, the Metrics plug-in shows who read it and offers a link to the reader's profile.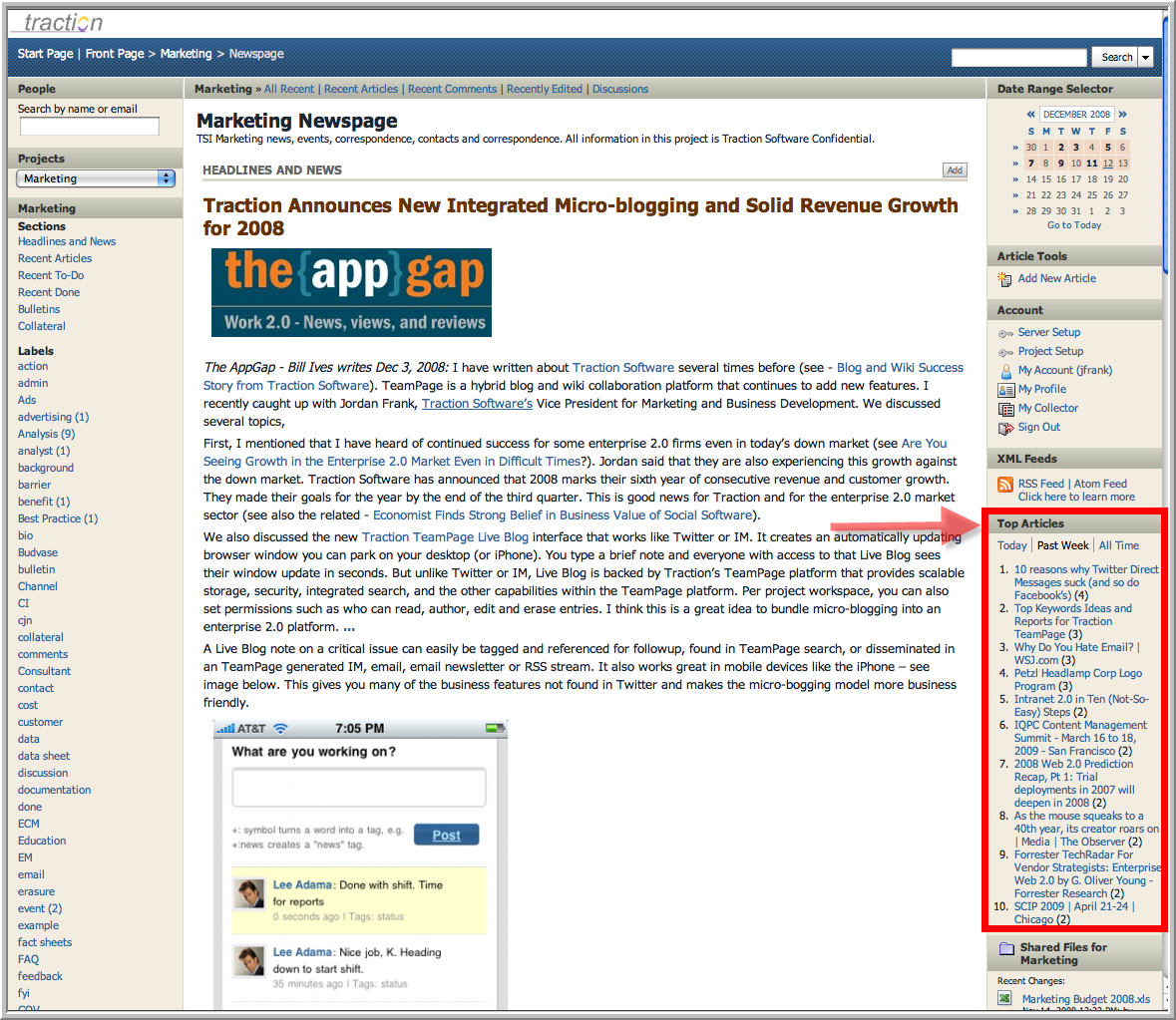 Metrics reports also offer deep insight into the collaborative process. While frequent authors are easy to spot, Metrics highlight key collaborators or "wiki gardeners," who often work beneath the surface, improving content by editing, commenting and tagging. Reports also chart tags that are read or used the most, to help identify best practices and patterns that can be extended across workspaces.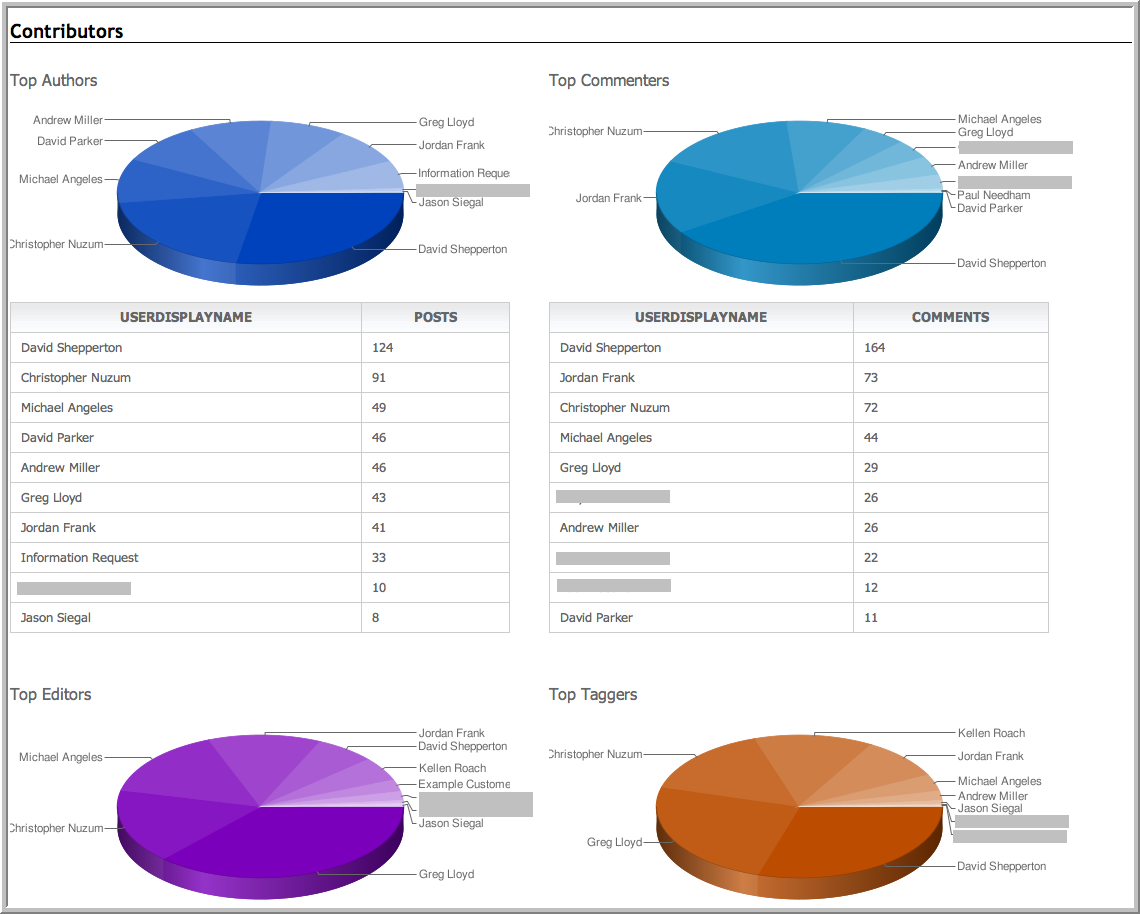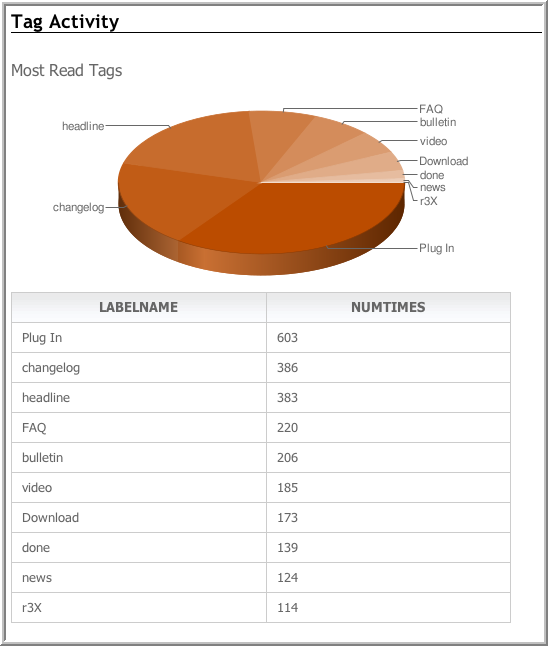 Metrics and Ratings Plug-Ins Demonstrate Platform Extensibility
The new metrics and ratings capabilities are packaged as plug-ins, demonstrating the extensibility of the Traction platform. The plug-ins use the Traction SDK and SDL (Skin Definition Language), leveraging a pluggable database to store and query relational content including ratings and activity tracking.
About Traction TeamPage - Breakthrough in Enterprise 2.0 Collaboration
Traction® TeamPage™ social software combines enterprise wiki group editing, the simplicity of a blog, and a unique model for commenting and social tagging. Customers use TeamPage to create and share valuable information including market research & competitive intelligence, program & project management and corporate communications. The award winning TeamPage hypertext engine is built specifically for secure, scalable Web based communication and collaboration. TeamPage is the first Enterprise 2.0 platform to incorporate document management with version control, Wiki page name history, micro-messaging, and the capability to see, edit and search either latest stable (published) or draft work in progress content. Traction TeamPage was selected as "Best Enterprise Wiki" by InfoWorld, and named a KM World Trend Setting Product every year from 2005 to 2008.
About Traction Software Inc.
Traction Software Inc is the leading provider of Enterprise 2.0 social software, enabling groups and teams to work more effectively by creating a secure hub for business communication and innovative collaboration. Traction Software's fast growing customer base includes thousands of organizations ranging from small startups to leading enterprises (including thirteen of the Global 100 and ten of the top twenty pharmaceutical firms), universities, non-profits and branches of the U.S. Government including the U.S. Department of Justice and Department of Defense. Traction Software is one of KMWorld's 100 Companies that Matter and a winner of the RedHerring100 and eContent 100 awards. Traction Software is a privately held corporation with financing from investors including In-Q-Tel (venture arm of the CIA) and Slater Interactive. For additional information, visit Traction at tractionsoftware.com.
Traction Software and TeamPage are trademarks of Traction Software. All other names are trademarks of their respective companies
###
For more information, contact:
Dana Harris
978-440-8392
Red Javelin Communications
dana@redjavelin.com
Tweet