Athens Group - Traction® TeamPage for Quality Management, Training and Knowledge Base

Athens Group is an independent consulting firm based in Houston, Texas. In 2009, the company migrated their Athens Group Quality Management System (AGQMS), industry knowledge base, and training curriculum to Traction® TeamPage where the information is easily accessed, collectively edited, and the content can be moderated where necessary. TeamPage became their integrated Intranet. In 2011, the TeamPage Attivio Search Module was added to further improve information access with automatic page ranking and faceted drill down navigation.
Using TeamPage, Athens Group is able to quickly and cost-effectively train a greater number of Drilling Technology Assurance℠ (DTA) consultants, enabling the company to provide its DTA services to a rapidly growing client base. The Traction TeamPage based Intranet streamlines management of AGQMS and allows anyone in the company to gain quick and easy access to Athens Group quality procedures and documents.
About Athens Group
Athens Group provides independent, third-party technology assurance services for high-specification Oil & Gas drilling and production systems. Our mission is to help operators, drilling contractors and asset owners ensure safety, reduce non-productive time (NPT), and safeguard the environment over the entire asset lifecycle.
Before Traction TeamPage
In 2009, Athens Group was faced with the need to scale its training and quality management systems to accommodate its rapid growth. Traction TeamPage helped the company to:
Consolidate AGQMS for more streamlined change management and greater internal visibility
Keep up with the demand for its services by enabling new hires to more quickly remove any gaps in their knowledge, become well versed in the Athens Group proprietary Proven Practices, and become productive DTA Consultants
Benefits of Traction TeamPage
"No, really, we want you to edit our intranet first day on the job." Thomas Cogdell, the Knowledge Coordinator at Athens Group, usually gets a disbelieving look when he tells this to a newly hired Drilling Technology Assurance℠ (DTA) consultant. "We believe that you bring experience, knowledge, and perspective that will improve our knowledge management systems. And don't worry, our TeamPage software ensures I'll get an email notifying me of a change to any page; and it keeps full history so we can always roll back if need be; and it locks down some tightly-controlled spaces like AGQMS so that you won't be able to make changes where you shouldn't. So … we really do want you to edit our intranet!"
This oft-repeated conversation highlights three reasons why Athens Group selected Traction TeamPage over competitive systems:
Ease of editing by anyone in the company
A full audit trail of all changes
Ability to have a mix of open and moderated spaces
The ability to export collections to Word and PDF, subscribe to pages and spaces, and use keyword tags were other important features for the fast-growing company.
Less than a year after implementation of the company's Traction TeamPage based Intranet, adoption has been rapid, as shown in the following graph.
By building its company Intranet using Traction TeamPage technology, Athens Group has been able to:
Consolidate disparate sources of company knowledge into a single portal
Streamline its training and knowledge management processes
Athens Group Quality Management System (AGQMS)
The Traction TeamPage deployment of AGQMS was designed and implemented under the auspices David Wight, the Director of Quality for Athens Group, who has designed several ISO-certified quality systems. After AGQMS was migrated to Traction TeamPage, it moved from a bulky set of processes, procedures, work instructions and documents to a highly visible and easily customizable Intranet system that's known and used by everyone at Athens Group.
The AGQMS space's home page is a comprehensive home page on the Intranet, with links to top-level articles:
Athens Group chose to make AGQMS a moderated space, creating an audit trail of approvals as well as edits. For example, this page shows both the Edit and Moderation history of one page: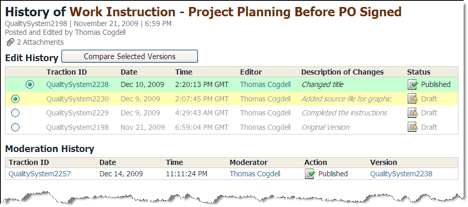 Using the tagging capabilities in TeamPage, each page is assigned an owner and an approver. This gives each person an easily accessed "to-do list."
Athens Group Knowledge Portal
As a consulting services organization, accessibility to corporate knowledge is a core value that Athens Group provides for its clients. Athens Group leveraged TeamPage's tag-driven sections to create an Athens Group Knowledge Portal that's both comprehensive and self-maintaining.
To aid knowledge transfer, Athens Group created its own taxonomy of industry keywords. Late-generation drilling rigs have their own vocabulary and acronyms, and the same company or piece of equipment can be known by more than one. For example, a top drive (which drives the drill bit into the well) might be referred to as "Top Drive", "TD", "T.D.", "Derrick Drilling Machine", "DDM", or "D.D.M." – often in the same document! Rather than have to search for all the possible combinations, Athens Group created a single tag "Top_drive" which is then applied in every place where the top drive is referenced.
Similar tags for clients, vendors, operators, rigs, and so forth enabled creation of section driven pages that dynamically build themselves as Athens Groups adds new clients, rigs and projects to its ever-expanding list of successful delivery of DTA services. For example, in addition to links to external sources such as Rigzone, each rig page in the knowledge base has dynamic lists of projects for that rig, lessons learned from working on that rig, and other references to the rig anywhere in the Intranet.
These lists are self-maintaining, because any time a new project or lesson learned or other page is tagged with the rig name, TeamPage will automatically update the list.
Traction TeamPage's ability to use tags and dynamic sections has resulted in a highly cross-linked, yet zero-maintenance knowledge portal.
DTA Training Curriculum
The increasing demand for Athens Group's DTA services created the need for scalability in the training process. Once AGQMS and the Knowledge Portal were implemented in TeamPage, Athens Group moved from a paper-based training curriculum to an online curriculum that references other parts of the Intranet.
The DTA Training space implements this approach and has greatly improved the scalability of Athens Group's training program. A newly hired DTA Consultant works through the Training Curriculum which guides him or her through the entire multi-week process.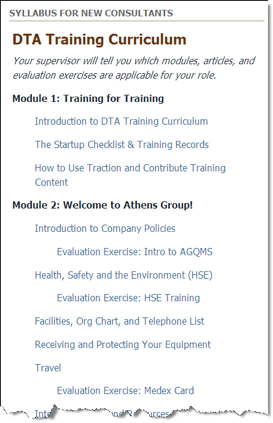 Each of the training pages may have links to many other spaces, such as AGQMS, Company Info, or DTA Proven Practices. Training pages may also include links to network shares such as the DTA Knowledge Base℠, other Athens Group online systems such as OpenAir, or external resources such as the Driller's Club message boards.
New hires who are seasoned veterans from other leading companies in the industry have consistently say that the Athens Group Intranet, quality system, and training program is the best they've ever seen. And they're surprised to learn that they're expected to contribute content immediately, even on the first day! Once assured that their changes will be reviewed and can be reversed, they do.
The Future of Traction TeamPage at Athens Group
Athens Group's Traction TeamPage based Intranet allowed the company to better leverage its AGQMS system and reduce the training time needed before DTA consultants are ready to be assigned to projects. As Athens Group continues to expand its services, clients and employees, Traction TeamPage will prove its value again and again.
See TeamPage Solutions: Quality Management
Related
Aug 2014 | Providence Business News - Social tools being adapted for Web-based QC tool
Tweet