Chris Nuzum Hyperkult XXV Video | Tripping Up Memory Lane
May 15, 2016
·
Blog3001
· Posted by Greg Lloyd

Watch this video of Chris Nuzum's Tripping Up Memory Lane talk at Hyperkult 2015, University of Lüneburg, 10 July 2015. Traction Software CTO and co-founder Chris Nuzum reviews hypertext history, his experience as a hypertext practitioner, and the core principles of Traction TeamPage.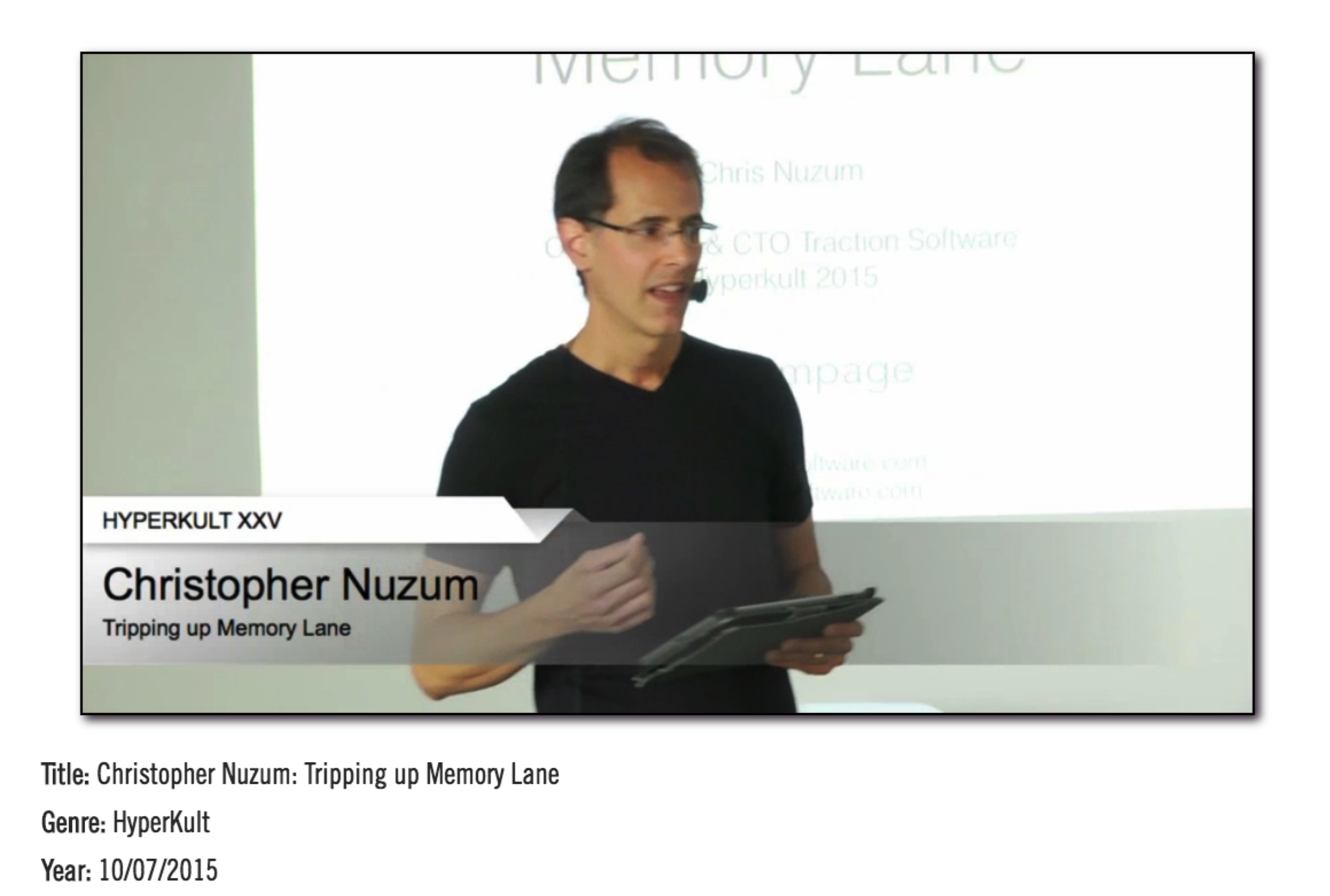 Live video Chris Nuzum Hyperkult XXV
More
my posts | thoughtvectors.net
Related
Tripping Up Memory Lane - Chris Nuzum's written notes for his Hyperkult XXV talk.
Traction Roots - Doug Engelbart - About Doug Engelbart's Journal and Traction.
Original Traction Product Proposal - Hypertext roots and evolution of Traction TeamPage.
Doug Engelbart | 85th Birthday Jan 30, 2010 - "Doug Engelbart sat under a twenty-two-foot-high video screen, "dealing lightning with both hands." At least that's the way it seemed to Chuck Thacker, a young Xerox PARC computer designer who was later shown a video of the demonstration that changed the course of the computer world."
Thought Vectors - Ted Nelson: Art not Technology - "To give up on human understanding is to give up hope, what we call in English 'a counsel of despair.' I think there is hope for much better and more powerful software designs that will give ordinary people the power over computers that they have always wanted - power with complete understanding. But that requires inspired software design, which I believe is art and not technology."
The Work Graph Model: TeamPage style - The social dance of getting things done, dealing with exceptions, and staying aware of what's going on around you
Tweet