Features
Traction® TeamPage integrates collaboration, communication, action tracking, exception handling, social tagging, activity streams, discussion and social networking using Traction's award-winning hypertext technology. TeamPage makes Enterprise 2.0 technology secure, attractive, effective and reliable for business.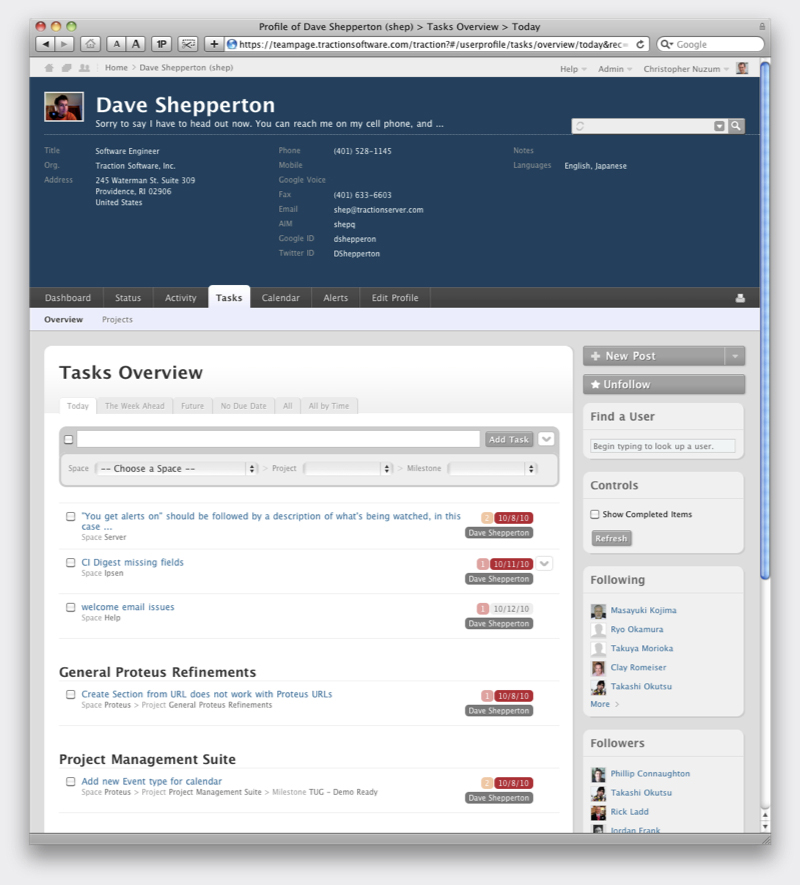 Deloitte reports "Alcoa Fastening Systems, which has significantly improved employee productivity -- achieving a 61 percent reduction in time required for compliance activities -- by leveraging [ Traction TeamPage ] social software tools.
Integrated Action Tracking and Project Management



One click can add a task tag to any Traction page, comment, status post or paragraph, with automatic rollup of actions by person, date, milestone or project.

Action Tracking calendar views are organized by person or by space. You can subscribe to calendars in Outlook, Google Calendar, or other iCal clients

Seamless integration with the TeamPage collaboration model makes it simple to share and discuss Tasks and Projects with clients, or keep them private.

Integrated status, activity, and profiles


Twitter-style status with follow model is seamlessly integrated with search and profiles. TeamPage's multiple-space model shows status in context, with permissions that make it easy to watch status spanning private and public spaces.

Profile pages show contact information, interests, status, and activity stream by person, automatically clipped by permission rules. Click any name to pop a mini-profile

Feed view. Click the expand icon next to any item to smoothly expand its summary to show content or actions in context.

More » Social Software for Work

Integrated collaboration and communication


TeamPage seamlessly integrates collaborative editing (wiki style), time ordered feeds, and paragraph level tagging and comments. TeamPage spaces provide business context and permission rules for collaboration.

Permission-based page moderation makes it simple to one group to collaborate on drafting revised content like policy, budgets or contracts while keeping the latest published version visible for reference.

Email a reply to an email notification and have it automatically attached as a comment to the correct item.

More » Putting Hypertext to Work
Organization, Views, Search and Permissions
Traction TeamPage tailors each user's experience depending on their permissions, skin, locale, and time zone preferences. TeamPage delivers content using configurable dashboard Sections which can organize information by time, tag, space, author and other criteria.
Content Authoring, Editing and Management
Traction offers the best available tools for authoring, document management, linking, editing and threaded discussion. The content authoring and notification features are designed to make it easy to interact with Traction while leveraging office desktop, browsing, and email habits.